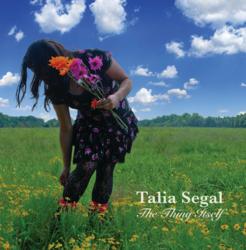 "Talia Segal delivers stirring, soulful folk rock. She sings her poetic yet direct lyrics with a voice that is a soaring marvel".

~The Muse's Muse
Washington, DC (PRWEB) December 16, 2011
Independent singer/songwriter, Talia Segal, just finished work on her latest studio release, "The Thing Itself". The album isn't due for release until early 2012, but is already making waves online.
Since Segal posted tracks from the album on Facebook two months ago, new fans by the hundreds , from all over the world, have continued to join her Facebook fanpage.
Talia presents an irresistable blend of quirky instrumentation, catchy melodies, and heartfelt, observational lyrics. Her songs paint vivid pictures, and cast everyday, sometimes mundane subjects in a refreshingly unique light.
She has been on a month-long "Free CD Tour" in December, criss-crossing the country from Pennsylvania to Colorado, and delighting audiences with her charming live performances. She is offering free advance copies of "The Thing Itself" to all in attendance.
Talia has released two albums to date, and has been on the road since early 2007, playing solo-acoustic shows all over the country in support of her music. Songs from her most recent album, "Atlas", were recognized by:
2010 Telluride Troubador Songwriting Contest (Finalist)
2010 Rocky Mountain Folks Festival Songwriters' Showcase (Honorable Mention)
2009 John Lennon Songwriting Contest (Finalist)
2009 SAW/BMI Showcase at the Smithsonian With Lamont Dozier (Finalist)
2009 Billboard World Song Contest (Honorable Mention)
2009 North Carolina Songwriters' Co-op Contest (Honorable Mention)
2009 Mid Atlantic Songwriting Contest (Honorable Mention)
Talia will perform in the following cities on the final leg of her tour, between December 18th and December 23rd, 2011:
12/18 Williamsport, PA
12/21 Redding, CT
12/23 Pittsburgh, PA
For details, please visit:
http://www.taliasegalmusic.com
http://www.facebook.com/taliasegalmusic
http://www.twitter.com/talia_segal
Please direct all press inquiries to:
taliasegal(at)hotmail(dot)com
###