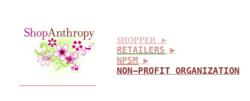 Anaheim, CA (PRWEB) December 15, 2011
ShopAnthropy - online cause shopping is a simple process that is still little known and often misunderstood. nonprofitshoppingmall is answering the most common questions.
How does ShopAnthropy work?
Non-Profit organizations such as Surfrider Foundation, RAINN, Ovarian Cancer National Alliance and Flying Kites Global are partnering with cause-shopping engine nonprofitshoppingmall.com.
NPSM provides revenue generating tools that allow these non-profits to turn their supporters' online shopping into support.
What is the cost to the shopping supporters?
There is zero cost to the shopper.
NPSM has contracts with hundreds of retailers, including the most popular retailers like Macy's, Nordstrom, Swell, Buy.com, Barnes and Noble, Best Buy, Expedia, Netflix, Weight Watchers and Target. These retailers pay NPSM a commission for the privilege of being represented on their website and on the non-profit organizations' online shopping mall sites. Every time a shopping transaction occurs with one of the affiliated retailers the Internet technology earmarks that percentage for them. The retailers pay npsm and, npsm, in turn, donates the biggest part of that commission to the Non-Profit organization.
What ShopAnthropy tools are available?
There are now three ways to shop online and support:
1) shopping a Non-Profit's online mall by going to the website
2) downloading their EZ Shopper app and going straight to the retailers' websites
3) clicking the Shop+Support tab on the Non-Profit's Facebook page.
Does it really help the organization?
Yes. If only 10 000 supporters spend 25 dollars a month online they generate an average of 3% in earmarked donations.
that results in 7,500 dollars in donations to the Non-Profit organization in just one month.
###