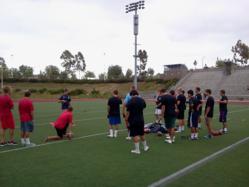 Las Vegas, NV (PRWEB) December 15, 2011
Michael Husted of Husted Kicking will be holding the Annual Pro Qualification Camp January 21-22, 2012 in Las Vegas, NV. The camp will qualify kickers for the Annual Aguiar / Husted College-Pro Camp which will be attended by UFL and NFL Pro Personnel and Scouts.
The Pro Qualification Camp will follow Husted's Senior College Pro Camp which will be held January 14-15 in San Diego, CA. It is the second of three Husted Kicking events created to help free agents on their path to play professional football.
According to Husted, strict qualifications will be in place to ensure Pro Personnel and Scouts see only the 'best of the best' at the College and Pro Camp. In order to achieve this, all kicking specialists will be evaluated over two days and must average the mandatory qualifications to attend the College and Pro Camp.
"I think we've done pretty well over the last few years providing Pro Personnel and Scouts with some solid kicking talent," says Husted. "Now we are 'upping' our game even more."
Over two days, kickers must average 80% on field goals, and a minimum hang time of 3.85 seconds with a 65-yard average to qualify.
Punters must average 1.40 seconds hand to foot time, 4.60 seconds hang time, and 42 yards average on distance.
Snappers must average .80 seconds on all long snaps.
All specialists attending the camp will be given an online player profile with video and stats of the two days. The cost of attending the Pro Qualification Camp is $300
With over 30+ years of NFL experience running the camp, kicking specialists will have the opportunity to work with professionals who understand what it takes to play professional football.
This is a must attend camp for any free agent specialist pursuing their NFL dreams.
For more information go to Husted Pro Qualification Camp.
For more information on the camp and Husted Kicking visit http://www.HustedKicking.com
###