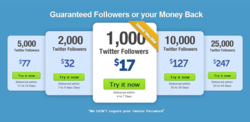 We guarantee Twitter Followers or 100% your money back.
Ottawa, ON (PRWEB) December 16, 2011
Buy Real Twitter Followers, a company run by Buy Real Marketing –a world provider of Web 2.0 Business Applications shares its latest offer in its services. Buy Real Twitter Followers presents a limited time offer on their most popular package. For this season, they are currently selling 1,000 Twitter Followers at only $17 to be delivered within four (4) – seven (7) days upon order for their Twitter marketing campaigns.
Buy Real Twitter Followers is a legitimate source for users who wish to build a credible and notable audience for their products and services through a strong following. The process that the company uses is to help their clients and their businesses grow using social media as its marketing standpoint. "We at Buy Real Marketing believe in providing our clients with the best means possible of helping businesses thrive. Naturally, we'd like to offer affordable means that is within the limits and is considered valuable to our clients. So for as low as $17, you can have a large following that will provide a major impact for your business" mentions Business Development – Managing Director, Jonathan Kennedy.
Twitter followers are considered to be a positive impact in any marketing campaign. Buy Real Marketing offers two (2) kinds of Twitter followers: real and non-real. The reason behind the change in their offering is due to the great demand from the market. Having real Twitter followers can provide the interaction to build a firm relationship between the client and their consumers. While having non-real Twitter followers can provide its users the instant online credibility to draw the attention of its potential consumers. Through this latest development, Buy Real Marketing has agreed to discontinue the need for passwords to avail their services.
"We want to be honest with our clients and which is why we are upfront about our services. We provide two kinds of followers: real and non-real. This is because different clients have different needs and purpose for their Twitter marketing campaigns. For our real followers, our method is genuine and we use a 'Follow First' method which requires their passwords. With non-real followers, we no longer need passwords thanks to our team of experts" explains Managing Director, JP Bisson.
From these advancements, the company has reported to have received better feedback from
their clients and sales have improved drastically. Having Twitter followers has helped many online and other businesses thrive since May 2010. The company believes that even their smallest package can provide an impressive impact for businesses' Twitter marketing campaigns. For updates on their latest service, visit their website on http://www.buyrealtwitterfollowers.com.
About
Buy Real Twitter Followers is a company under The Buy Real Marketing, a wholly owned company by Clicking Labs, Inc. The company specializes in Web 2.0 Business Applications, Web Traffic, SEO Tools and Social Media Marketing. Each product specifically addresses a need within the web marketing arena. The scope of their marketing services includes the following networks: Facebook, YouTube, Twitter, Vimeo, Tumblr, Google Plus and SEO for web properties.
###