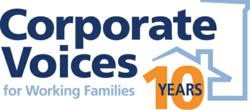 Employer partnerships like these are playing a key role in helping today's working learners—often low-income young adults—gain valuable skills, pursue their education, and advance up the career ladder.
Washington, D.C. (PRWEB) December 15, 2011
Corporate Voices for Working Families has released four new micro-business cases documenting the considerable benefits gained when employers, community colleges, and community organizations forge close partnerships to support working Americans. Model efforts like these are helping supply employers with the skilled talent they need, while creating promising career opportunities for Americans who urgently need them in a changing and challenging 21st-century economy.
The new profiles feature the efforts of three diverse employers in different industries who are building the talent pipeline of current and future employees.

AREVA, a global energy corporation, partners with Central Virginia Community College, on a training program through which employees pursue their higher education while working at the company. Successful candidates earn an associate degree in Nuclear Support Technologies, in a curriculum specially tailored to the labor market needs of AREVA.
Bright Horizons Family Solutions LLC, the world's top provider of employer-sponsored child care, early education, and work-life solutions, partnered with an educational publishing company to develop an online training program through which employees earn the industry's benchmark child-development credential. And through the company's current collaboration with private and public universities nationwide, Bright Horizons' employees can access tuition discounts and earn college-level credits for their child care studies.
McDonald's, a leading global foodservice retailer, invests in executive talent development through its innovative Hamburger University (HU) and its network of regional training centers and HU campuses around the world. McDonald's worked with the American Council on Education to gain credit recommendations for much of its training—making it one of only a dozen Fortune 500 companies to receive college credit for the training it provides its employees. Moreover, through its alliance with some 15 higher education institutions, the company ensures that successful HU students can translate their training into academic credits toward their associate or bachelor's degrees.
Similarly, a fourth micro-business case spotlights the efforts of a popular retailer that is creating first-time training opportunities for disadvantaged youth:
Gap Inc., a leading global specialty retailer, invests in This Way Ahead, a program providing career exploration, job readiness training, and paid internships for young adults at Gap and Old Navy stores. The company developed and supports its initiative through partnerships with two community organizations, The Door in New York City and with Enterprise for High School Students in San Francisco. Through the program, young people are building an education and workforce portfolio for their future careers.
"Employer partnerships with community colleges and local organizations are playing a key role in providing the supports that today's working learners—often low-income young adults—need to gain valuable skills, pursue their education, and advance up the career ladder," said Donna Klein, Executive Chair and CEO of Corporate Voices for Working Families.
The first three profiles, part of a series published within Corporate Voices' ongoing Learn & Earn initiative, are available online at http://www.cvworkingfamilies.org/our-work/pse/micro_cases.
The Gap Inc. profile, also part of a series of best-practice micro-cases focused on Enterprising Pathways for underserved youth, may be found at http://www.cvworkingfamilies.org/our-work/workforce-readiness/enterprising-pathways-program-micro-business-case-studies.
Corporate Voices' Learn & Earn initiative is made possible through the generous support of the Bill & Melinda Gates Foundation. Its Enterprising Pathways research is generously supported by New Options, a project of the W.K. Kellogg Foundation.
About Corporate Voices for Working Families
Corporate Voices for Working Families is the leading national business membership organization shaping conversations and collaborations on public and corporate policy issues involving working families. A nonprofit, nonpartisan organization, we create and advance innovative policy solutions that reflect a commonality of interests among the private sector both global and domestic, government and other stakeholders. We are a unique voice, and we provide leading and best-practice employers a forum to improve the lives of working families, while strengthening our nation's economy and enhancing the vitality of our communities. Publications, research studies and toolkits on a host of workforce readiness, workplace flexibility, family economic stability and work and family balance issues are available online at http://www.corporatevoices.org.
###