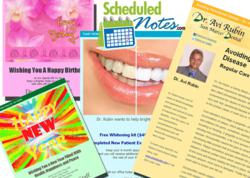 ScheduledNotes has been a great tool for reactivating patients that we haven't seen for a while. They appreciate that we stay in touch with them and it takes virtually no time for us to do it (H.L. - Dental Office Manager)
BOCA RATON, FL (PRWEB) December 15, 2011
In today's economy, even medical professionals are competing for patients. The ScheduledNotes system is built around the fundamental idea that relationship marketing helps medical and dental offices increase patient retention and build the practice's patient base. To that end, the ScheduledNotes.com website allows users to quickly and easily schedule groups of patients – for example active or inactive – to receive email greeting cards for virtually every holiday occasion that would be sent over the course of a year. Greeting cards for birthdays, Christmas or New Years, can be combined with "soft" marketing messages that won't be perceived as "spam" or junk email by the recipients. The custom email and newsletter features make it easy to create one time, or recurring schedules for announcements, appointment reminders, thank you notes, and coupons, all in a matter of minutes.
The combination of greeting cards, custom emails and newsletters allows a medical or dental practice to keep its name in front of patients in way that is appreciated. In fact, says one Doctor, "We actually have patients replying with a thank you note for remembering them on a holiday. They don't know that we set up these schedules 6 months ago, and they run automatically."
ScheduledNotes features a simple-to-use interface, patient information importing from virtually any practice management program, attractive email greeting cards and profession specific cards for regular tasks like reminders and thank you notes, group scheduling and a host of other features that puts it on par with major email marketing programs. The uniqueness is in the simplicity of the interface. Greeting cards, custom emails and newsletters all share an identical look and feel, and the site features page specific help buttons that display easy to follow, step by step instructions for each page.
Medical practices have for the most part, limited themselves to marketing through traditional printing and mailing, which is has become increasingly more costly as postage rates have gone higher and higher. Smart medical professionals have begun using e-service platforms provided by their practice management software companies to cut down on phone calls, postcards and mailings, but these e-service plug-ins lack the marketing finesse of ScheduledNotes. "By adding ScheduledNoteswe were able to integrate marketing into our practice management platform for pennies a day - and it's really made a difference".
ScheduledNotes is offering 25% off the regular annual or monthly subscription price if you register now. Just enter the Coupon Code, SCN61766 on the registration page
To sign up today, visit http://www.schedulednotes.com and click the REGISTER button.
###