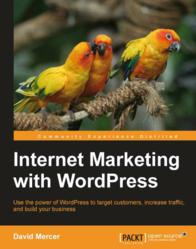 Birmingham, UK (PRWEB) December 15, 2011
Internet Marketing with WordPress is a new book from Packt that will help readers to use the power of WordPress to target customers, increase traffic, and build their business. Written by David Mercer, this book will assist readers to create and deliver awesome SEO-enhanced targeted content to drive large numbers of visitors through their blog as well as to accurately identify their business objectives.
WordPress is a free and open source blogging tool and publishing platform powered by PHP and MySQL, which is often customized into a content management system (CMS). This mature and stable product is the official successor of b2/cafelog, and can be completely customizable to be used for almost anything.
Internet Marketing with WordPress enables users to create WordPress blogs that will instantly capture their target audience, build their reputation, and turn visitors into paying customers. Furthermore, users will learn to gain an excellent understanding of the online marketing cycle and to start generating more and more interest with less effort and ultimately meet and exceed all their goals.
Through this book, developers will learn to identify their ideal customer, create excellent content that will fulfil their needs, drive customers to their blog, and constantly analyze and improve their success rate. Additionally, this book will allow developers to turn their blog into a customer magnet using the simplest techniques available, including SEO, social media, market analysis and targeted content.
This practical step-by-step tutorial is ideal for all those, who are already using WordPress, and wish to have more and better visitors, and to convert more of them into paying customers. This book is out now and available from Packt. For more information, please visit: http://www.packtpub.com/internet-marketing-with-wordpress/book
###