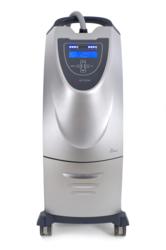 "As a dermatologist, I am constantly evaluating new technology for cosmetic procedures. I am very impressed with the effectiveness and versatility of Reaction™ by Viora," said Dr. Nicole Hayre, board certified dermatologist
McLean, VA (PRWEB) December 15, 2011
Cosmetic Dermatology Center is excited to announce the recent introduction of Viora's Reaction™, a leading medical aesthetics device. This clinically proven, FDA cleared device addresses the most requested and popular medical aesthetic procedures.
Cosmetic Dermatology Center's patients wanting to have superior treatments for contouring or cellulite reduction can be assured of the most advanced solutions available for both face and body. The CORE™ technology in the Reaction™ device ensures client safety, comfort, and efficiency, as well as faster treatment times, all of which clients greatly appreciate.
"As a dermatologist, I am constantly evaluating new technology for cosmetic procedures. I am very impressed with the effectiveness and versatility of Reaction™ by Viora," said Dr. Nicole Hayre, board certified dermatologist and owner of Cosmetic Dermatology Center. "This procedure is easy on the patient, with really no downtime other than a pink hue for an hour. To be able to effectively tighten the skin on the face or body, and to treat cellulite in this manner, is a long-awaited goal of this industry which has finally been realized!"
"I am so impressed that a treatment like this is available," said S.M., Reaction patient. "Even my husband noticed the difference. This really is a miracle tightening machine!"
"We are proud to be associated with Cosmetic Dermatology Center. With Reaction™'s advanced RF treatments for contouring and cellulite reduction, Dr. Nicole Hayre's patients have a safe, pain-free, clinically proven solution, all while seeing immediate results," said Eliran Almog, CEO of Viora Inc. "Dr. Hayre continues to effectively and comprehensively serve her patients by addressing their treatment needs."
About Cosmetic Dermatology Center
Cosmetic Dermatology Center is a McLean, Virginia-based practice run by award-winning, board-certified, dermatologist Dr Nicole Hayre whose expertise and eye for detail help her to 'turn-back-the-clock' for her clientele and offer the best dermatologic care.
About Viora
Viora is a market leader in the development of technologically advanced medical aesthetic systems for physicians and aesthetic clinicians worldwide. Dedicated to the research and development of safe and effective devices, Viora provides the highest standard of professional grade solutions while keeping aesthetic businesses in mind.
Press Contact:
Cosmetic Dermatology Center
info(at)cosmetic-dermatology-center(dot)com
Tel: 703.827.8600
###