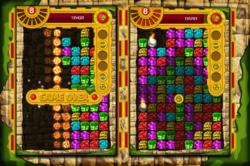 Im really inmersed in the maya civilization with this fantastic game. The art and sounds are fantastics!
Barcelona,Spain (PRWEB) December 15, 2011
Play Now Free App : Maya Collapse Match Lite
Play Now Full App : Maya Collapse Match
TikTak Games today is pleased to announce Maya Collapse Match their quality game where the players must save the Mayan civilization from destruction.
Player is an archaeologist that needs to connect the colorful glyphs in groups of 3 or more to generate connections to destroy the whole level.
The Iphone game has 10 lives to meet the challenge of overcoming the collapse of mayan civilization.
The game has a compete mode for challenge with ipad, iphone,gamecenter and facebook friends in the same leaderboard!
Players are immersed totally in ancient Mayan civilization while having fun:
-Tribal Mayan music.
-Realistic scenarios based on what we know of this civilization.
-Glyphs up to 9 colours. (Try to beat our 10 levels with 9 different colors).
-Mayan Effects Sounds.
-Leaderboard accord to all the experience of the game.
TikTak Gamesdevoloped a new system multiplatform leaderboard , competing at the same time to:
-Facebook friends.
-Iphone friends (Maya Collapse Match and Maya Collapse Match Lite).
-Ipad friends (Maya Collapse Match Hd and Maya Collapse Match Hd Lite).
-GameCenter Friends.
All at the same time , and the player can see when overcome her friends and post in friend wall some joke.
This iphone game have 17 Achievements from TIKTAK GAMES , where the players can obtain different ranks of archaeologists.
This Iphone Game is the first game of the indie game company TIKTAK GAMES.
TIKTAK GAMES is localized in Barcelona and has started on the creation of video games this September.
5 indie devolopers are working on make some fun for a lot of players.
###