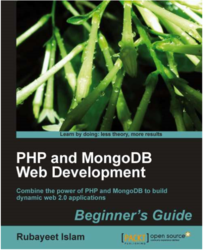 Birmingham, UK (PRWEB) December 15, 2011
Packt recently announced the release of a new book on MongoDB: PHP and MongoDB Web Development Beginner's Guide. Written by Rubayeet Islam, the book takes a "code first, explain later" approach to build dynamic web 2.0 applications, thereby imparting to its readers practical examples in PHP to demonstrate unique features of MongoDB. Users learn how to store real-time site analytics, build location-aware web apps, handle user sessions, and much more using MongoDB and PHP.
MongoDB (from "humongous") is a scalable, high-performance, open source, document oriented database. Written in C++, MongoDB features document-oriented storage, full index support, replication & high availability, auto-sharding, querying, fast in-place updates, map/reduce, GridFS, and commercial support.
PHP and MongoDB Web Development Beginner's Guide aims to give its readers a practical grasp on concepts related to web application development using PHP and MongoDB. Following an introduction to the underlying concepts of MongoDB, each chapter brings with it numerous practical examples to teach specific features of the database and solve important problems like real-time analytics, location-aware web apps etc. Readers are guided to use MongoDB alongside MySQL to build a diverse data back-end.
With the help of the this book, readers can learn to build a PHP-powered website with MongoDB as the data storage, handle HTTP sessions with MongoDB, store website analytics data in real time and process large datasets with MapReduce. The book goes on to show the use MongoDB to supplement user's existing relational database, and optimization of MongoDB for performance and security.
To read this book, readers need to be experienced in web application development using PHP, HTML, and CSS. An additional knowledge of relational database system such as MySQL, would prove helpful in grasping concepts quickly. No prior knowledge of MongoDB is required.
For complete information about the book, please visit: http://link.packtpub.com/lXbV41
# # #