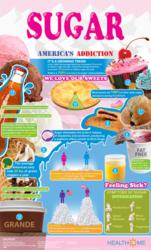 We initially set out to conduct a thorough study into sugar consumption, but were surprised to uncover such startling results.
Durham, NC (PRWEB) December 15, 2011
Weight loss experts at HEALTHeME (myhealtheme.com) today released an infographic highlighting their findings (http://bit.ly/vQp0J5) on sugar addiction in America and its implications for weight gain and overall health. The infographic reviews the state of America's sugar consumption, pointing out dietary improvement opportunities for people trying to prevent disease, increase their energy, or lose weight.
With the goal to understand the impact that sugar consumption is having on Americans, HEALTHeME reviewed nutrition facts from their own database, U.S. Census statistics, and reports from health organizations throughout November 2011.
Here are a few key results:

Since the 1800's, America's sugar consumption has increased by 733% - from an average of 18lbs of dietary sugar each year to over 150lbs presently.
Most people eat 100% of their daily sugar allowance during breakfast. Items like cereal bars, juice, and fat-free yogurt are loaded with sugar.
Half of all Americans report drinking at least 1 soda per day, which totals 55lbs of sugar each year.
Sugar releases euphoric brain chemicals that are similar to those produced by illegal drugs.
The average American consumes five times as much sugar each year than green vegetables.
The list continues.
Sloan Rachmuth, Co-Founder of HEALTHeME, explains more about why this research is so important: "Many people struggling to lose weight turn to fat-free foods or foods labelled "natural". Often these foods are packed with sugar, which stymies weight loss efforts leaving people frustrated and unhealthy." She continues "We initially set out to conduct a thorough study into sugar consumption, but were surprised to uncover such startling results."
"High energy is vital to a productive and happy life. Thanks to this research we now have a much better understanding of the sugar addiction our country has, and we'll work hard to help HEALTHeME users overcome it – and change their lives for the better" she concludes.
To find out more about this research, as well as kick your sugar habit and get on the road to a healthier life, please visit: http://www.myhealtheme.com.
About HEALTHeME
At HEALTHeME, our vision is to give people the knowledge, motivation, and support necessary to achieve long lasting weight loss and optimum health. HEALTHeME's proprietary technology combines clinical advice, behavioral science and artificial intelligence to deliver a health app that is smart and proactive. HEALTHeME helps people achieve measurably healthier and more productive lives by combining cutting-edge technology with clinical protocols. HEALTHeME is based in Durham, N.C.
# # #