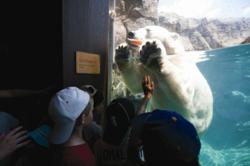 "We are truly honored to have our world's-best staff featured on this nationwide program," according to Jim Moorkamp
St. Louis, MO (PRWEB) December 19, 2011
PGAV Destinations, a global leader in the planning and design of entertainment and cultural destinations, announces its upcoming debut on the "World's Greatest" television series.
The show featuring PGAV Destinations will air on December 28, 2011, January 2 and January 9, 2012 on national cable channels and local network affiliates at various times around the country.
"PGAV Destinations was selected because they are the best independent design and consulting firm in the destination design market," states Gordon Freeman Executive Producer of the "World's Greatest" at How2Media. "They are a very unique company, and I know their story will be most interesting to our viewers."
Employing sculptors, industrial designers, zoologists, landscape architects, and graphic and interior designers, PGAV Destinations has assembled an exciting and creative team to work with major clients all over the world. Currently, the firm is working in China, UAE, Spain, and the Bahamas, as well as in many major American cities. A film crew from How2Media spent time at the firm's headquarters in St. Louis, Missouri to go behind the scene and interview designers involved with extraordinary projects.
"We are truly honored to have our world's-best staff featured on this nationwide program," according to Jim Moorkamp, Principal of PGAV Destinations. "It is a reflection of the growth of our practice over the past several years."
In the past eleven years, PGAV has opened more than 55 projects in twenty U.S. states and abroad. The cumulative impact of these projects translates into 90 million in annual visitors and more than $1.8 billion in cumulative project value.
About PGAV Destinations. PGAV Destinations is a global leader in the planning and design of unique destinations. The firm uniquely combines award-winning storytelling and creativity with business strategy to create some of the world's most important cultural, heritage, and natural destinations. PGAV develops growth-oriented master plans and translates these plans into innovative new destination products. Now in its fifth decade, the firm has authored hundreds of highly successful projects in places such as SeaWorld, the Grand Canyon, Biltmore Estate, The Gettysburg Battlefield, the Georgia Aquarium, Kennedy Space Center, and Busch Gardens. http://www.pgavdestinations.com
About How2Media. How 2 Media is a 21st Century television production company dedicated to bringing viewers informative, educational, and entertaining television through national cable networks. "World's Greatest!" is a fast-paced, 30-minute tour around the world featuring behind-the-scenes footage and interviews; some of the most amazing and unique companies, products, people, and travel destinations the world has to offer. http://www.how2media.tv
###