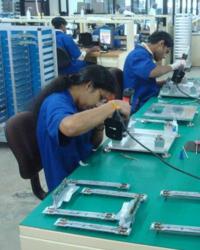 We are much more than simply load cell suppliers – we offer all the high level expertise needed to design and manufacture complete weighing and force measurement solutions.
(PRWEB) December 16, 2011
Load cell manufacturer Flintec has won the contract to design and manufacture a new generation scanner scale for use in point of sale (POS) retail environments across the world.
The client – one of the largest suppliers of enterprise solutions – chose Flintec for its innovation and proven high quality POS solutions.
Flintec will be designing and manufacturing a custom load cell for the new scanner scale as part of the innovative weighing solution that it is delivering.
Flintec beat off tough competition to win the contract. The company was able to demonstrate a high commitment to quality thanks to its manufacturing facilities being approved to ISO9001 and ISO13485 standards.
VCAP approval for Flintec's extensive line of NTEP-approved load cells was also deemed to be crucial for the application.
VCAP (Verified Conformity Assessment Program) is an assurance of quality consistency, confirming that Flintec's force measurement solutions all meet the same precision accuracy standards.
Flintec can tightly control quality thanks to its:

in-house manufacture of strain gauges
machining and heat treatment of load cell elements
policy of 100% meticulous calibration of all load cells.
Flintec is already recognised as an innovative supplier to the retail scanner and self-checkout markets, where products such as the planar beam (models PB and PBW) offer fast, accurate and ergonomic solutions.
The company has been at the forefront of high accuracy strain gauge load cell weighing solutions for decades and will be using this extensive knowledge to advise its clients on all aspects of weighing in both the North American and European markets.
Flintec Managing Director David Weeks said: "This new contract exemplifies Flintec's continuing expansion of its capability.
"We are much more than simply load cell suppliers – we offer all the high level expertise needed to design and manufacture complete weighing and force measurement solutions."
Recent examples of this have been the start up of a manufacturing unit to produce a baby scale based on planar beam load cell technology.
The load cell, electronics, software and mechanical components will all be designed by Flintec and assembled in one of its state of the art load cell manufacturing facilities.
Flintec is one of the world's biggest load cell manufacturers. Its design teams are located in the USA, UK and Sri Lanka.
For more information about Flintec's load cells and force measurement solutions, please contact David Weeks, +44 (0)2920 797959
Information for Editors:
Flintec UK Ltd
W4, Capital Point
Capital Point Business Park
Wentloog Avenue
Cardiff, CF3 2PW
Tel. +44 (0)2920 797959
Fax +44 (0)2920 797939
Flintec is one of the world's largest manufacturers of precision load cells and strain gage electronics – innovating a diverse range of force measurement solutions for customers who demand optimum accuracy, quality and customer service.
Founded in Sweden, the company has focused upon the design and manufacture of strain gages, load cells, measurement electronics and software for a diverse industry base from weighing machinery to new markets in the medical device, industrial and agricultural machinery and process automation sectors.
Flintec is part of the Swedish Indutrade Group (http://www.indutrade.se) listed on the OMX Nordic Exchange Stockholm. Indutrade comprises 100 subsidiaries with 3,000 employees and annual revenue of $1 billion.
Flintec's teams have always actively sought out the most difficult load cell weighing and force measurement challenges. Flintec innovates solutions for applications that rival firms either ignored or tackled badly.
In recent years, Flintec has expanded with:
two hi-tech major manufacturing facilities in Sri Lanka (at Katunayake and Koggola)
sales, distribution and customer support facilities in the USA, Brazil, Sweden, Germany, the UK, France, Italy, Sri Lanka, China and India
1,000 highly-trained employees committed to developing innovating measurement solutions, maximum accuracy and rapid delivery.
Major sectors served include medical device manufacturing, process weighing, weighing machinery, industrial and agricultural vehicles, test & measurement plus process automation & control.
###