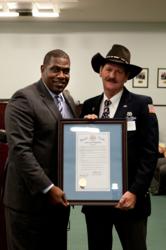 "Some wounds don't end with the war. The severity and extent to which veterans suffer with Posttraumatic Stress Disorder is a direct response to our culture's willingness to welcome home and care for its' Warriors."
Scott Fairchild, PsyD
Brevard County, FL (PRWEB) December 31, 2011
A new program, benefitting homeless veterans who may suffer from PTSD (Post Traumatic Stress Disorder), is coming to Brevard in the new-year.
The PTSA (Post Traumatic Stress Awareness) Program is being offered as a new signature NVHS program and will be administered through a joint effort of NVHS' volunteers and mental health professionals, under the guidance and support of Doc Scott Fairchild, a Brevard County resident and psychologist who specializes in PTSD and TBI (Traumatic Brain Injury) treatment.
Scott Fairchild, Psychologist, a veteran himself, has a passion for understanding and helping veterans with PTSD and related conditions. He is also affiliated with another non-profit, Welcome Home Vets, whose volunteers provide direct clinical services, small grants, legal guidance, advocacy and education materials to the public.
As they relate to veterans specifically, some facts about PTSD are that many alcohol and drug abuse related problems in veterans stem from PTSD that has gone misdiagnosed or untreated. PTSD alone may leave the affected feeling misunderstood and out-of- touch. PTSD is generally frowned-upon and by reporting it, a serviceman or woman may lose their job. This situation results in many veterans trying to deal with it on their own, with no group, peer, or counselors involved. It can take years for PTSD to set in, or it can be instantaneous.
NVHS is an organization of volunteers who assist in the mission of searching for, rescuing and reviving U.S. Veterans who have become homeless.
Through years of helping homeless veterans transition back into benefits, housing, jobs, and re-joining their families and society while dealing with PTSD, NVHS' President, George Taylor, has seen it all. The need to offer more ongoing support to the veterans who are trying desperately to get back on-track, and stay there, seems to be clear.
"We often see veterans who need more time, more emotional support and some coping methods that will pull them through when the times get tough. We don't want them to end up back in the woods", says Taylor.
The new program has been designed combining what Taylor's years of field experience tells him is needed and what Fairchild's years of successful practice have proven. Awareness, relief with a plan, and ongoing support.
The PTSA (Post Traumatic Stress Awareness) Program's outline and goals are simple and full of purpose.
First, to offer education and spread awareness about how PTSD affects the mind of those suffering.
Awareness offers everyone, from the general public to the veteran and the family of the affected veteran, plus all veteran organizations and volunteers- the recognizable signs and symptoms.
Secondly, to offer appropriate action steps towards help plus interim coping methods that have been proven to help veterans affected by PTSD.
Offering easy action steps and coping methods provides a light at the end of the tunnel with immediate ideas for temporary relief while initiating a non-threatening offer for help, ultimately connecting a possibly affected veteran to the proper resources and counseling.
Third, To offer a model of ongoing groups that meet with a mental health counselor as a group leader, in private.
Modeling and offering ongoing coping methods, similar to the style of the original A.A. meetings, will support our veterans as they encounter life situations. Problems can be talked-out between peers before turning into serious problems.
This three-part concept, with ongoing group meetings as a coping strategy, has been on George Taylor's mind and in his heart since 1991 when he was one of the first veterans to go through a PTSD program in the Miami, V.A.
"I knew it wasn't enough. This was the pivotal point in my life when I knew my life work was to advocate for the homeless veterans", says Taylor.
20 years in the making, George, NVHS and all the leaders and volunteers who make it up, with the guidance of Dr. Scott Fairchild, will finally get to see his visionary program come to life in Brevard. If all goes well, there is hope the program will be duplicated across Florida, and eventually the nation.
More About NVHS:
NVHS will be accepting applications from mental health counselors who have a heart to help with the new PTSA Program at this link.
Materials supporting the awareness, signs and symptoms, coping methods and resources to gain help will be available online and in the veteran community, distributed by NVHS volunteers and the businesses who sponsor NVHS' mission in Florida by the end of January, 2012.
In addition to being the only Veteran Search & Rescue organization in FL, NVHS organizes a yearly 'Stand Down' in Titusville and administers their signature 'Warm Full Safe' Program every year in Brevard, where homeless veterans are found and brought in from the woods and parks, given a warm, safe place to eat and sleep, with food and presents on Christmas Eve and Christmas Night.
NVHS is on Facebook: http://www.Facebook.com/VeteranSupport
Secure donations can be made from the website http://www.nvhs.us
For interviews with:
George Taylor, President NVHS, or
Scott Fairchild, Psychologist,
Please contact:
Beth McKenzie
ItsCardinal
866-966-8569 xt 802
beth.mckenzie(at)itscardinal(dot)com
###