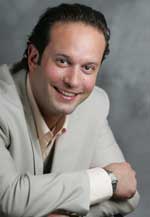 Boca Raton, FL (PRWEB) December 15, 2011
SEMPO, the Search Engine Marketing Professionals Organization, is pleased to present the latest installment in an ongoing series of educational webinars: 10 Different Kinds of Search, Presented by Jay Berkowitz, CEO of http://www.TenGoldenRules.com and Founder of the http://www.InternetMarketingClub.org.
The free webinar will take place Thursday, December 15th, 2011, at 12:00 PM Eastern (9:00 AM Pacific).
Long gone are the days of a Google search being the only way our customers and prospects search for goods and services. Join search engine optimization expert, Jay Berkowitz, as he explains the different ways business prospects use the internet to acquire information and how you can profit from using the most effective search engine marketing practices.
This presentation will investigate:

Instant Search
Social Trust Search
The Cycle of Search
People Search
Geo Search
Start-Up Search
Price Search
Reputation Search
Ample time will be provided for Q&A after the presentation.
Don't miss out! This event is free, but space is limited, so register today. To learn more about SEMPO's webinars, visit the SEMPO website.
If you have any questions, please contact cmadden(at)sempo(dot)org.
About Ten Golden Rules:
Ten Golden Rules is an interactive marketing agency founded by Jay Berkowitz based in Boca Raton, Florida. This search engine marketing, social media and strategic consulting agency helps companies develop programs to generate website traffic, convert traffic into leads and sales, and improve their Internet marketing strategy. The firm works with clients to target their audience with marketing and social networking. The 10 Golden Rules Internet Marketing Podcast is available at Podcast.TenGoldenRules.com and on iTunes. For more information, please visit TenGoldenRules.com.
About Jay Berkowitz:
Jay Berkowitz has been recognized as one of the top Internet business keynote speakers at many popular national and international conferences as well as a highly respected Internet marketing author. His presentations cover topics such as how to start a home based business on the Internet. Mr. Berkowitz, author of "The Ten Golden Rules of Online Marketing," is also an active blogger, podcaster, and Internet strategist. He was the Lead Subject Matter Expert and Program Faculty Member for the University of San Francisco's Internet Marketing Masters Certificate program and is the Founder of http://www.InternetMarketingClub.org. He has managed marketing departments for Fortune 500 brands: McDonald's Restaurants and Coca-Cola, and has managed online and offline programs for AT&T, Sprint, and leading health and fitness website eDiets.com. Mr. Berkowitz has received numerous awards including a SOFIE Award for Best Use of Emerging Media, a Special Bernay's Award and the Gold Medal from Women in Communications.
###