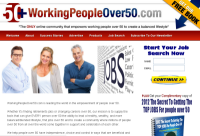 Deerfield Beach, FL (PRWEB) December 17, 2011
WorkingPeopleOver50.com is pleased to announce that they have today partnered with CareerBuilder.com. With their new Search Feature, and the resources provided by CareerBuilder.com, WorkingPeopleOver50.com is leading the way in making it easier for people over 50 to land their ideal job.
Since it's launch, and the release of the e-book 2012: The Secret To Getting The Top Jobs For People Over 50, WorkingPeopleOver50.com has been helping Baby Boomers find their way back into the workforce, and enhance their lives on many levels. The online community empowers Baby Boomers to create a balanced life, and steers them through the challenges that are facing them.
The biggest challenge Baby Boomers face right now is getting a job – at about the time they thought they would need to think about their retirement. For the huge number of Baby Boomers needing to get back in the workforce, it is of utmost importance for them to have the tools to be successful.
That is what WorkingPeopleOver50.com provides. According to President/CEO Joe Mayer, "Our goal to make WorkingPeopleOver50.com a complete information and resource portal for Baby Boomers is definitely on the fast track."
About WorkingPeopleOver50.com
Workingpeopleover50.com is the only online community that empowers working people over 50 to create a balanced life. With a focus on the interests and needs of the community at large, and targeting the specific areas of Jobs and Careers, Personal Finance, Relationships and Lifestyle, their mission is to provide the Information, Resources and Products to not only make that possible, but to make it virtually effortless.
Retirement Jobs and Jobs Over 50
###