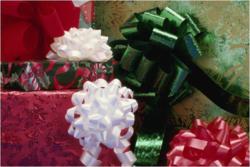 Cars loaded with packages and gifts stashed under a tree make tempting targets for criminals. So it's important to make sure your cars and homes are locked.
LINCOLN, RI (PRWEB) December 15, 2011
The holidays are the most wonderful time of the year – especially for burglars and thieves who break into homes and cars to steal electronics, jewelry and other valuables.
"Cars loaded with packages and gifts stashed under a tree make tempting targets for criminals," said Lisa St. Onge, an assistant vice president with Amica Insurance. "So it's important to make sure your cars and homes are locked, even if you're only stepping away for a few moments."
Don't leave gifts in plain sight in a car or visible through a window at your home. Thieves could be tempted to smash the glass and grab the packages.
"And whether you're leaving your home for a party or for a vacation, make sure it looks like someone is home," St. Onge said. "Leave lights on a timer. And if you're going away, even for a few hours or overnight, make sure someone picks up your mail and newspaper. A newspaper lying on an empty driveway is a sign that no one's home."
The National Crime Prevention Council offers these tips and reminders:
If you're shopping:

Park in a well-lit area and be sure to lock the car.
Don't leave anything of value visible inside the car, including pocket books, shopping bags, iPods, cellular phones and GPS units.
Avoid carrying large amounts of cash. Pay with a check or credit card when possible.
Be careful with your purse and wallet, keeping your pocket book closed and wallet in a front pocket.
If you're out for the night or traveling:

Turn on lights and a radio or television to make it look like someone is at home.
Make sure you lock all doors and windows, even if you'll only be gone a short while.
Turn on a security alarm if you have one.
Put away your valuables. Never leave expensive gifts within view of doors and windows where they're easily seen.
Keep your yard well lit.
Let a neighbor know if you'll be away, and leave them with your cell phone or another contact number in case of an emergency.
Make arrangements for someone to clear snow from your driveway and sidewalk if you're not going to be home.
"Burglars love to enter a house through unlocked windows and doors, so make sure Christmas lights and extension cords that run through a window or door aren't preventing them from being secured," St. Onge said.
After Christmas, don't leave boxes from electronics and other expensive gifts on your curb for trash day, St. Onge said. That's a signal for burglars to break in and steal them at a later date. Fold or cut them and put them in trash cans or recycle bins.
It's also a great idea to take an inventory of valuables in your home, St. Onge said. Amica's mobile app, available for most smartphones, includes a home inventory feature that offers a handy way to keep track of personal belongings and categorize items by price.
"Remember these simple crime prevention tips to help protect yourself," St. Onge said. "Don't let the criminals have a better holiday than you."
About Amica Mutual Insurance
Amica Mutual Insurance Company, the nation's oldest mutual insurer of automobiles, was founded in 1907. The company, with corporate headquarters in Lincoln, RI, is a national writer of automobile, homeowners, marine and personal umbrella liability insurance. Life coverage is available through Amica Life Insurance Company, a wholly owned subsidiary. Amica employs more than 3,100 people in 40 offices across the country.
###