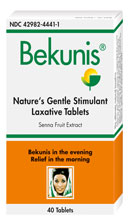 This is the season when people are out of thier normal healthier eating habits. Digestive processes can be thrown off and need help. Bekunis® offers safe, natural, dependable relief
Ghent, NY (PRWEB) December 16, 2011
Continuing its longstanding commitment to bringing leading European natural brands to US consumers, Bioforce USA is pleased to announce that Bekunis® Natural laxative is now available through Select Nutrition and Threshold Distributors, effective immediately. The distribution is supported by a new, full page ad running in Vitamin Retailer magazine.
Bekunis® has long included both the pleasant tasting leaf and the instant tea form. Now this popular natural laxative is being offered in a convenient, easy to take tablet form as well, which have proved very popular in Europe. Bekunis® is made from Senna fruit extract and works in harmony with the body to relieve simple constipation by stimulating the large bowel during the night to gently induce smooth, comfortable regularity in the morning. When Bekunis® is taken in the evening, relief follows in the morning. Bekunis® natural laxative is backed by years of research and the highest quality standards.
According to Pierce Sioussat, President of Bioforce USA, "We are pleased with the timing of getting our new distribution partners up and running. This is the season when people are traveling, visiting friends and relatives, attending parties, in general being out of our normal healthier eating habits. Our digestive processes can be thrown off and need help. Bekunis® offers safe, natural, dependable relief. Thankfully, Bekunis® is now readily available to all natural product retailers through Select and Threshold."
A quick look at our store shelves shows that there are not many choices for those seeking laxative relief. And the conventional alternatives can be harsh and habit forming. Bekunis® is a safe, natural choice for gentle relief. And with so many dosage forms available, there is an acceptable laxative solution for everyone.
About Bioforce USA
Bioforce USA has created long-term strategic alliances with European manufacturers of product lines that have years of clinical research support for safety and efficacy, plus years of repeat consumer use. Bioforce USA has brought these lines, which include A. Vogel, Sanhelios, Herbatint, Bionorica, Dado Sens from Borlind, and SECURE exclusively to the United States for distribution through natural products and health food stores. For more information go to http://www.Bioforceusa.com or call Eileen Sheets at 800-641-7555 x100.
###