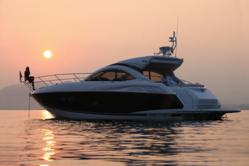 "Vantage has charted a course to deliver the best-of-the-best and the Portofino 48 is positioned at the pinnacle of its class."
Chicago, IL (PRWEB) December 16, 2011
Vantage Yacht Club, the premier fractional club offering shared yacht ownership and creator of the Yacht Card, announced an addition to their fractional fleet today with the order of a new 2012 Sunseeker Portofino 48 from Great Lakes Sunseeker dealer Jefferson Beach Yacht Sales.
"We are excited to introduce our members to one of the most sought after yachts in the world," said Jason De Palma, President of Vantage Yacht Club, "Vantage has charted a course to deliver the best-of-the-best and the Portofino 48 is positioned at the pinnacle of its class."
To be christened "Game Changer," the Portofino 48 is being offered in the Vantage Yacht Shares program and features a rich deep blue hull, fifty-three feet in overall length, joystick controlled Volvo IPS pod drives, retractable carbon fiber hardtop, lifting swim platform, teak cockpit with extended seating configuration, high-gloss cherry wood cabin and a full-beam owner's suite with vast windows on both port and starboard sides. Including virtually every available factory option, her cost to construct and transport from the Sunseeker factory in England is nearly $1.4 million.
Sunseeker is known to hand build a limited number of yachts each year. With only thirty-five Portofino 48 models scheduled for production in 2012 and a full order book, "Game Changer" will be a rare and distinctive complement to the yachting community in Chicago.
Although her official launch ceremony will take place on the Chicago River in May 2012, "Game Changer" will be completed and placed in British waters March 2012. Vantage Yacht Club Members will have the opportunity to join their group on a journey through London for a tour of the Sunseeker factory in Poole, England. "As the most tenured Sunseeker dealer in the States, I have been to the factory hundreds of times," said Greg Krueger, President of Jefferson Beach Yacht Sales, "it is truly a remarkable experience that Vantage Members will cherish for a lifetime." Vantage Members who make the voyage will meet naval architects, executives and personally witness how these marvels of design and technology are dreamed and constructed. In addition, the four Members who secure a Portofino 48 fractional position will have the opportunity to visually inspect and sea trial their new sport cruiser on the English Channel.
Vantage Yacht Club and the Yacht Shares program will be showcased at the Progressive Chicago Boat Show at McCormick Place on January 12 – 16 and at the Progressive Strictly Sail Show at Navy Pier on January 26 – 29. Vantage is raffling complimentary passes to the boat shows to those who "Like" Vantage Yacht Club on Facebook. To enter, visit: http://www.facebook.com/VantageYachtClub, follow their page and participate.
About Vantage Yacht Club
Based in Chicago, Illinois at the Willis/Sears Tower, Vantage Yacht Club is a visionary leader in the maritime industry offering marina management, yacht management, club membership, charter, leasing and fractional yacht ownership. Vantage Yacht Club has transformed the marine industry with the introduction of the Vantage Yacht Card and Vantage Yacht Shares programs. Free from the capital outlay and expenditure that traditional ownership requires, these offerings grant Members access to an exquisite collection of yachts at a fraction of the cost associated with private ownership. The greatest benefit Vantage offers is a turn-key yacht management solution that allows Members to step-on and step-off the fleet, leaving every responsibility in the hands of the Vantage team. Visit http://www.vantageyachtclub.com for more information or call +1 855 777 1855.
About Vantage Yacht Shares
The Vantage Yacht Shares program grants Members all of the joy, gratification and advantages of owning a whole yacht, only at a fraction of the cost and free from every concern. Vantage Yacht Club manages the yacht, taking care of all maintenance, cleaning, scheduling, insurance, training and services. There is a one-time acquisition cost, based on the interest size desired, as a fraction of the total value of the yacht. Vantage guarantees the ownership costs for the three-year term and members are only responsible for the percentage of the costs they own. At the end of the term the member will recover the initial acquisition cost minus depreciation and less a nominal resale fee. Members are guaranteed to have access to their yacht for the number of days their interest provides. A Quarter Share interest in the Great Lakes Region allocates one of the following or an equivalent combination each season: 35 twenty-four hour time slots, 70 half-day time slots (8 hours) or one full week each month.
About Jefferson Beach Yacht Sales
With more than 40 years of experience, Jefferson Beach Yacht Sales (JBYS) knows boating on the Great Lakes and around the world like no other. JBYS leads the industry with an unrivaled reputation for customer service and represents only the finest quality brands like Sunseeker, Viking Yachts, Princess and Regal. JBYS is headquartered in St. Clair Shores, MI with locations in Chicago, IL; Catawba Island, OH; Grand Haven, MI; and Charlevoix, MI. Quality, reliability, experience and customer care make JBYS the company you want by your side when it comes to boats and big yachts. Visit http://www.jbys.com for more information or call +1 866 490 5297.
###