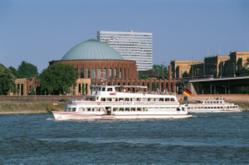 Classical and new versions of Schumann's work to highlight the composer's modern streak and romantic progressiveness
DÜSSELDORF, GERMANY (PRWEB) December 15, 2011
Schumannfest in Düsseldorf is a celebration of Robert Schumann, master composer and musician of the Romantic period, and Düsseldorf, the city where he lived and worked. The every-other-year festival carries on in 2012 with new kinds of event but in a tradition that began in 1979.  This will be the first Schumannfest after the 200th anniversary of his birth in 2010, when the city celebrated with an entire year of performances and events. 
The 2012 festival will focus on Schumann's progressive and modern personality, which is recognized in his musical expressions of transcendence, liberation, and great sensitivity, as well as his individual genius, which was highly innovative and even moody and rebellious at times.
Schumannfest 2012 will take place from May 24 – June 4. The opening concert connects Schumann and Europe with America, and the past with the present, by including works of Bernstein and Ives. The festival's directors are Michael Becker, Artistic Director of Düsseldorf's prestigious Tonhalle, a planetarium-turned-concert space on the Rhine River; and dramaturgic advisor Beate Schüler. Their efforts will showcase classical and new versions of Schumann's work to highlight the composer's modern streak and romantic progressiveness. They will feature a kaleidoscope of musical integrations with Schumann's work, including a combination of his music with Beatles songs and Electronica versions of his compositions, to open the festival's appeal to many audiences.
Schumann spent his last creative years in Düsseldorf as the city's musical director from 1850-1854, and lived at five different addresses, including one on the beautiful tree-lined Königsallee, which today is one of Europe's main high-end shopping boulevards. Düsseldorf is considered the quintessential "Schumann City," and the festival's events will take place in various venues across the city, most of them at the Tonhalle.
During Schumannfest, the city becomes the perfect backdrop for a fascinating spring music festival experience.  The city's Old Town is home to the "longest bar in the world" - 260 restaurants, bars and pubs serving local "Alt Beer" and delicacies. The river promenade, considered the most beautiful on the Rhine, leads from Old Town to modern Media Harbour.  And 20 castles in and around the city and short distances to other destinations --  including the Rhine-Ruhr area, Cologne, Belgium, the Netherlands -- offer many more opportunities for short and long-term stays.
For more information on Schumann Fest 2012, visit http://www.schumannfest.de
For hotel and travel specials, called "Art in Düsseldorf," offered by the city's tourism office, see the travel offers page on http://www.visitduesseldorf.de.
Düsseldorf Marketing & Tourism GmbH is the visitors and convention bureau of the city of Düsseldorf. Its responsibilities include tourism and city marketing, as well as conference and meeting marketing, hotel reservation services, fairs and convention services, city event ticket sales and advance ticket reservations. For more information, visit http://www.visitduesseldorf.de.
Düsseldorf International Airport, Germany's third largest, offers several non-stop flights from US & Canadian cities (Atlanta, Chicago, Ft. Myers, Los Angeles, Miami, New York, Newark, Toronto, San Francisco, Vancouver), as well as convenient connections to many European cities. For more information about the airport, visit http://www.fly2dus.com.
###