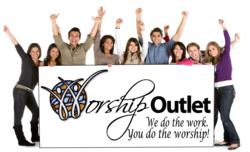 Finding just the right contemporary and traditional settings of Christmas music can be a full time job for those who plan worship!
Elkhorn, NE (PRWEB) December 16, 2011
Churches across the United States face a challenge this Christmas season. "In the past planning worship for Christmas was relatively simple. You chose which hymns and carols to sing and maybe planned some special music, However, it's no longer that simple!" says, J. Paul Davidson, Ex. Director of WorshipOutlet. "You might say that expectations have changed along with the times. Gone are the days when church-goers were content to hear traditional holiday music sung and played in a traditional way at their Christmas service. Today's church-goer is accustomed to more complex arrangements blending the past with the present. They've come to expect arrangements, knowingly or not, with a contemporary twist that is rooted in tradition." Davidson says. Today the average worshiper has been exposed to a lot of musical options and is accustomed to much more contemporary sounding arrangements of music than ever before.
WorshipOutlet, based in Elkhorn, Nebraska, is seeking to lend a helping hand to worship leaders across the country during this very busy time of the year. For worship leaders who want to make a big impact this holiday season, WorshipOutlet is offering a free 7-page list that contains musical arrangements that have been hand-picked for having just the right blend of contemporary and traditional roots. The leaders behind WorshipOutlet hope that this list will free up time for worship leaders across the country. In particular, they hope to assist any worship leader who is baffled by the plethora of music choices available for Christmas and advent services, take some of the guesswork out of the music selection process, and point the way to musical arrangements that are sure to have an impact this holiday season.
Christmas is often the busiest time of the year for churches. Worship leaders across the country report being spread too thin. They want to make an impact this holiday season, but they lack the time and resources to focus on what really matters. The staff of WorshipOutlet see the holiday season as an opportunity for churches to expand and grow. For many churches, worship services this time of year are the most highly attended of the year. In an effort to help churches maximize this opportunity, WorshipOutlet hopes to free up hours of time worship leaders spend digging for just the right music to accompany their church service.
It isn't just the dizzying variety of music options that's the biggest drain on church time and resources. When it comes to selecting music to accompany a worship service, leaders inevitably must use select from not one, but many different music resources. Achieving a sense of musical coherency in the end can prove difficult. This is particularly challenging when blending contemporary and traditional musical arrangements.
WorshipOutlet hopes to take some of the guesswork out of the music selection process for hundreds of churches this Christmas season. Through a recent $50,000 grant from Thrivent Financial, they are extending a much needed hand to churches across the country. With their free 7-page listing, they believe that any church can achieve a perfect blend of traditional and contemporary to awe and inspire
modern church-goers this holiday season.
With church attendance dwindling, for many churches Christmas is slated to be the most important church service of the year along with Easter. While the holiday season inevitably spreads church resources thin, WorshipOutlet invites worship leaders to give themselves a break this holiday season so they can focus on what's really important - the message.
"We hope to take some of the burden off church leaders this holiday season, so they can focus on crafting Christmas services that will truly inspire," says Donna Hoefs, a leader behind WorshipOutlet.
Through Christmas and advent, any worship leader who is interested can sign up to receive WorshipOutlet's free, 7-page listing of Christmas musical arrangements at FREE RESOURCES. These musical arrangements are sure to inspire. WorshipOutlet hopes that this free listing of musical arrangements will help worship leaders across the country cut through the clutter and free up time and resources during this busy season.
In addition to the free 7-page listing, WorshipOutlet is also offering a free Christmas Gospel that is humorous and heartwarming. The script includes parts for two children. It's sure to melt even the coldest hearts this holiday season. To receive WorshipOutlet's free music listing and Christmas Gospel, go to http://www.spiritignite.com/FB-Give-Away.html
Christmas is one of the most attended church services of the year. WorshipOutlet encourages all worship leaders to enjoy these free gifts this Christmas and advent season so that they might have a bit more time to spend doing other things.
###