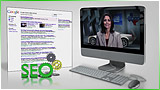 "It is exciting to be in a fast moving field such as video SEO, working with such diverse teams of creative experts that include us in what they are doing,"
Dallas, Texas (PRWEB) December 20, 2011
Webvideo360 is a growing Dallas start-up lead by some entrepreneurial veterans, has teamed up with SEO specialists that use video such as SEO Services Dallas firm Ecommerce Interactive.to help convert customers and get web sites to rank. WebVideo 360 understands that most small businesses need to outsource their web solutions and that there are few affordable solutions available. This partnership is a step toward offering quality solutions that will increase visibility so that small businesses can efficiently compete with larger businesses in their market.
Video is a hot trend, with YouTube growing as the second largest search engine behind Google. Video Search Engine Marketing helps sites outrank regular web pages 67 to 1. This has led to a high demand for businesses to include video on their websites.
One solution stands out in Dallas video production. This solution includes affordable, highly professional HD video and audio. It is like getting TV commercial quality for less than the prices video marketing firms typically charge for informal, unscripted videos.
WebVideo 360 has helped many small businesses create high quality videos of their products and services to enable them to compete with the large budgets of major corporations.
"It is exciting to be in a fast moving field such as video SEO, working with such diverse teams of creative experts that include us in what they are doing," Says CEO Mike Scannell.
"Advertising agencies turn to us to execute the video solutions for their clients' campaigns. The real fun is when we see our videos ranking top on Google, going viral on YouTube, or the client's home page of their website."
About WebVideo 360: WebVideo helps companies create videos that show off their services and products in a medium that has become popular with consumers and businesses. Visit their website http://webvideo360.com to learn more.
About Ecommerce Interactive: EI collaborated with WebVideo 360 to help provide even more value and SEO ranking potential for small and medium businesses. To learn more about Ecommerce, visit their website at http://www.ecommerceinteractive.com/
###