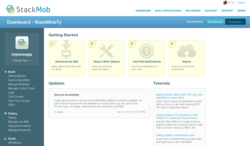 "StackMob gives us the stability and flexibility we need to focus our resources on the user interfaces of our applications so we can deliver the best possible experiences to our customers."
--Carlton Hawkins, Blue Cross/Blue Shield
San Francisco, Calif. (PRWEB) December 15, 2011
StackMob (http://www.stackmob.com), today announced that its leading platform for building, deploying and growing mobile applications is now publically available. The first cloud-based platform focused on mobile applications, StackMob helps developers create feature-rich apps with quality user experiences that are built to grow right from the initial version. An end-to-end platform-based approach based on a powerful, managed backend, StackMob delivers specific capabilities and functionality that benefit developers at each phase of the mobile applications development process: build, deploy and grow. With StackMob's approach developers can focus on building the important user facing aspects that help their mobile applications stand out in today's competitive app marketplaces.
"One of the biggest challenges in healthcare is the ever changing nature of the landscape, and in today's connected world, it is critical that we innovate quickly to ensure we reach our customers through their mobile devices," said Carlton Hawkins, Sr Manager Retail Marketing, Blue Cross/Blue Shield. "StackMob gives us the stability and flexibility we need to focus our resources on the user interfaces of our applications so we can deliver the best possible experiences to our customers."
Since its Series A funding in April 2011, StackMob has experienced significant adoption with over 60% month over month growth in applications created using the platform. A broad range of individual developers, startups and large corporations are relying on StackMob to build their mobile business and have adopted the platform including Fortune 50 hotels, banks and consumer products companies. Built from the ground up for flexibility and scale, StackMob also has powered a top 20 mobile game app making over 3 million API calls per day.
"Mobile represents the first personal mass media device to connect with consumers, and we have seen massive demand for StackMob services from developers interested in effective, new approaches that can help them keep pace with this explosive growth of the mobile applications market," said StackMob CEO, Ty Amell. "With our background in scalable, distributed systems, we understand the pains of the mobile developer community and the need for a complete platform. Today marks a very special day in the history of our company and mobile technology, as the open launch of StackMob represents a big step forward in lowering the barriers for all mobile developers."
Built by experts in scalable, distributed systems, StackMob offers the best platform for building feature-rich mobile applications right from the start. Unlike simple, hosted mobile backend development tools out in the market today, StackMob is an end-to-end platform and powers mobile applications throughout each phase of development:

Build - StackMob helps developers cut backend development time from months to minutes. With the platform, developers can easily create and manage APIs, extend their APIs with custom code and integrate social functionality in just a few clicks.
Deploy - StackMob's development and production environment gives developers the ability to easily make changes or test their application without affecting the production API. They can also take snapshots of the development environment and in just a few clicks, port them to the production environment. Lastly, they can easily deploy new versions, roll back to previous versions or concurrently run multiple versions of an API.
Grow – StackMob gives developers everything they need to scale their application and the resources to grow their business. StackMob is built on reliable technology that can easily scale to the largest, most demanding applications. The platform also improves customer development by creating communications channels with users and provides deep insight as to how the application is being used. Businesses can see detailed API analytics and message any user or group of users.
"The seamless integration of development and production on StackMob makes managing our environments extremely simple," said Dav Yaginuma, co-founder of Meexo. "As a developer building a mobile consumer application, I recognize the importance of a dedicated environment where I can refine my app, while another version is out in the marketplace."
New StackMob Production Package Pricing
Also announced today, StackMob unveiled new pricing options. Now offering two categories of Production Package Pricing, StackMob's production packages cover a full range of options for developers to meet the specific scaling needs of their applications. For applications just starting out, StackMob offers Starter packages that range from free to $29. With its Pro pricing category that provides additional support and dedicated resources for scaling larger application businesses, packages range from $399 to $2,999.
All Production Packages have access to the complete set of StackMob features including advanced REST API Creation and Management, Push Notifications, Social Integration, Custom Code and Analytics. StackMob also provides built-in Development and Production environments allowing for simple testing and versioning of mobile applications. StackMob believes developers should not have to pay for their services during the development of their application. Developers can easily build and test their application for free in the Development environment, and when ready, they can simply take a "snap-shot" of their app and deploy to Production.
"Developers can't afford not to launch a high caliber application from day one that can easily scale to support a large, demanding capacity," added Amell. "StackMob provides the services and scalable platform developers need to build their mobile business and seamlessly grow with their user base. We built the StackMob platform to address the needs of even the most advanced developers and to ensure their applications would remain stable under heavy load."
About StackMob
StackMob is the industry's first, cloud-based mobile platform that helps developers create a mobile business by letting them easily build, deploy and grow full featured applications right from the start. StackMob cuts backend development time from months to minutes so developers can focus on creating high caliber apps with quality user experiences. With StackMob, developers no longer need to compromise the quality of their application development and can offload their deployment and scaling challenges using StackMob's services and platform. As experts in building scalable, distributed systems, StackMob enables developers to easily create and mange APIs, extend APIs with custom code, build development and production environments and add business solutions like customer development messaging, social integration and analytics
Founded in 2010, StackMob is backed by notable investors including Baseline Ventures, Harrison Metal and Trinity Ventures. For more information, please visit http://www.stackmob.com and http://www.stackmob.com/blog or follow StackMob on Twitter at twitter.com/stackmob.
Media contact:
StackMob
press(at)stackmob(dot)com
###