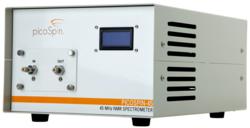 Vernon Hills, IL (PRWEB) December 15, 2011
Business and academic leaders in China, Estonia, India, Lithuania, Latvia, and the United Kingdom recently received up-close demonstrations of the picoSpin™-45L Benchtop NMR Spectrometer during a series of presentations. Dean Antic, picoSpin Chief Chemist and Director of Marketing, traveled on 16 flights in 14 airports to lead the training and demonstrations.
The picoSpin-45L Benchtop NMR Spectrometer, a 2011 Edison Awards Winner for Best New Product, analyzes liquid samples with 100 ppb resolution or better. Only 20 microliters of sample fluid is needed to obtain a spectrum. Its compact size and portability, weighing just 10.5 pounds (4.76 kg), makes it a desirable unit for lab researchers with limited benchtop space. The unit's affordable price provides access to students needing hands-on NMR experience in their academic curriculum.
Currently, academia relies primarily on paper NMR spectra data for teaching. Now, with an affordable option, students can gain real-time experience. "As a biochemistry teacher, I want my students to get practical experience on NMR spectroscopy. This instrument and its software seem to be very useful for both undergraduate and postgraduate students. We appreciate the initiative taken by Cole-Parmer for educational causes. With this instrument, students can now experience NMR hands-on in chemistry lab courses and in research projects," said Dr. Sangita Roy, HOD, Department of BioChemistry, Oxford College of Science, India.
Professor Lin Chongxi of the Analysis and Test Center of Peking University found the technology to be "very innovative. It has a great future in China in applied chemistry."
The tour included technical training, customer workshops, student lectures, and private demonstrations. To view this innovation, go to ColeParmer.com/18965 or, for more information, call 800-323-4340.
About Cole-Parmer: Cole-Parmer, the exclusive international distributor for the picoSpin™-45L Benchtop NMR Spectrometer, has been a leading global source of laboratory and industrial fluid handling products, instrumentation, equipment, and supplies since 1955. Our product lines, including popular brand names such as Masterflex®, Oakton®, and more, are sold through company-owned customer channel outlets and a strong network of international dealers. We also feature an ISO-17025-accredited metrology lab for instrument calibration and repair. Cole-Parmer responds with excellence to customer needs, and offers application expertise and technical support. For more information, contact Cole-Parmer, 625 East Bunker Court, Vernon Hills, IL 60061. In the US, call 800-323-4340. International customers, call 847-549-7600. Visit us at http://www.coleparmer.com.
About picoSpin: picoSpin, LLC, Boulder, Colorado, USA, was founded in 2010 by its Chairman, Charles E. Miller, together with a team of scientists and engineers. The mission of picoSpin is to develop, manufacture, and market miniature NMR spectrometers. Mr. Miller is also Chairman of Instrutech, Inc, of Longmont, Colorado, a manufacturer of vacuum instrumentation, and was formerly President of Engineering Measurements Corporation, also of Longmont, Colorado, a manufacturer of fluid flow instrumentation. Please visit us: http://www.picospin.com
###