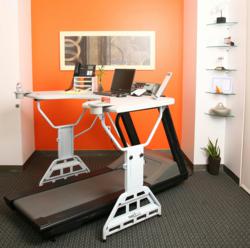 Movement throughout the day is critical to improving health, productivity and reaching personal fitness goals.
Scottsdale, AZ (PRWEB) December 15, 2011
While many Americans vow New Year's resolutions designed to regain their health joining gyms and ordering dietary regimens such as Jenny Craig, most weight loss resolutions are doomed to failure. Recent research, reported this week on ABC News, is showing that the failures are not always due to a lack of motivation or will power. According to researchers one of the main reasons Americans fail to lose weight greets them at the office every morning: the office chair. TrekDesk treadmill desks hope to change that dynamic, offering an opportunity for employees to walk while they work and reap the benefits of their new found resolve.
"No matter how little you eat or how much you exercise, too much sitting by itself may broaden your bottom" reported Lindsay Davis, on behalf of ABC News this week. "The researchers found that when we sit down the amount of force we put on our body tissue causes the very cells that are the precursors to fat cells to produce even more fat. Up to 50% more fat."
Numerous studies are showing that the body has a unique ability to adapt quickly to its environment triggering cell production best suited to the demands of its external stimuli. Sitting is interpreted quickly as a trigger to slow metabolism and store energy. The body reacts producing more fat cells and less muscle cells. It is simple body economics; supply based on demand. The good news is that these same triggers can operate in reverse. Move more and a new generation of cells will be concentrated less on developing fat stores.
"The road block for most good intentioned New Year's resolvers is one of education," stated Steve Bordley, CEO of TrekDesk Treadmill Desks. "You cannot undue the damage of sitting in an office for eight hours a day with just a daily visit to the gym and dietary adherence. The body just does not work that way. Movement throughout the day is critical to improving health, productivity and reaching personal fitness goals."
Designed to fit any existing treadmill, TrekDesk treadmill desk is an affordable, full sized, height adjustable workstation that allows individuals the opportunity to gain the necessary amount of exercise daily to maintain health, prevent disease, strengthen muscles, boost mood and productivity, without requiring additional time during the day or extra motivation. Workout at work with TrekDesk. No sweat!
TrekDesk is currently available for sale online at TrekDesk.com for $479.00 including free shipping.
Join the TrekDesk "Movement Revolution" to learn more on TrekDesk's Facebook page.
# # #