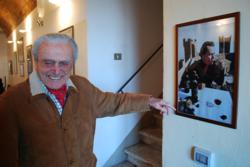 "Perché a me mi piace" (Because I like it)!
Verona (PRWEB) December 16, 2011
After Veronafiere and Vinitaly unveiled their new opening event to Vinitaly 2012 – the Grand Tasting "Finest Italian Wines: 100 Great Producers" two weeks ago, the international wine world turned their interest to Verona. The Grand Tasting is the first in a series of events under the umbrella of the new international venture OperaWine (http://www.operawine.it). On March 24th, 2012 Vinitaly in partnership with the American lifestyle magazine Wine Spectator will present for the first time 100 iconic Italian winemakers in unison at the magnificent Palazzo della Ragione in Verona.
The last names of the eclectic list of 100 wineries will be revealed before Christmas and complete the showcase of excellence and diversity of the finest Italian wines that had been carefully chosen from all regions of the Italian peninsula. Two 'newcomers' to the list – yet certainly not to the wine world – are Casanova di Neri as well as Biondi-Santi from Montalcino at the heart of Tuscany. The two excellent Brunello winemakers will be part of the 100 great producers.
In order to find out more on the wineries, their heritage and the wine growing regions, we invite you to read up on our journey notes, starting with Tuscany, which perhaps has one of the greatest concentrations of renowned wine makers from Italy. Excerpt: … "To understand the true importance of Biondi Santi, suffice it to say that they are to Italian wine what Pavarotti is to opera. Upon arriving at Tenuta Greppo, one feels like entering into a place filled with heritage, tradition and great passion for the wines that are produced here Dottore Franco Biondi Santi, now 89 years of age, still has his infectious laugh and ardor for his family's wines. A very special pleasure for each visit to Tenuta Greppo is hidden behind a door with a modest inscription "Antiche Riserve", which hides a little cellar and surely could be described as a holy grail of Brunello di Montalcino. Only Franco holds the keys to a treasure trove with bottles dating back to 1888."
Thus visit us on http://www.operawine.it enjoy our new trailer, the video commentaries, photos and subscribe in our commentary box for more upcoming information on OperaWine.
About:
"OperaWine" (http://www.operawine.it) is an innovative project, designed to cultivate knowledge on the excellence and diversity of the finest Italian wines and simultaneously give wine lovers the chance to experience unique, historical and cultural sites within the Italian peninsula. OperaWine is discovering the traditions, identity and heritage of the food and art in Italy, whilst falling in love with Italian wines. Exclusive initiatives related to Italian wine, food and culture is to encourage international operators, journalists, sommeliers, wine educators, and high profile wine aficionados alike to explore the fascinating history and context of Italian wine production.
For its premier event: "Finest Italian Wines: 100 Great Producers" OperaWine has partnered with the famous and influential magazine Wine Spectator, which for the first time ever has made a selection of the finest wines produced in one single country starting from the Italian peninsula and the excellence of its wines.
Wine Spectator is the world's leading authority on wine that reaches more than 3 million readers worldwide, the brand also encompasses a web portal, mobile platforms, and a series of signature events. It examines the world of wine from the vineyard to the table, exploring wine's role in contemporary culture and delivering expert reviews of more than 15,000 wines each year. Wine Spectator is solely responsible for the choice of producers at the event.
Vinitaly is the largest wine fair in the world with over 4,500 producers and 150,000+ visitors (including 45,000 from foreign countries). The event is held every year in Verona, Italy (46th edition: Verona 25-28 March 2012).
# # #
For further information, please contact:
media@operawine.it
http://www.operawine.it
tel: +39 045 8101447