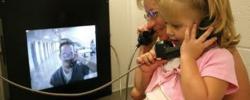 VisMail is not a traditional email system. VisMail is a corrections grade inmate email system designed specifically with the security needs of the corrections industry in mind.
Minneapolis, MN (PRWEB) December 20, 2011
Since 2003, VisManager, Renovo's flagship visitation management solution, has helped correctional facilities manage, schedule and automate their visitation centers. Using the knowledge gained from developing software to manage the complexities of inmate visitations, Renovo has added inmate and public email functionality which will allow correctional facilities to become more efficient and generate revenue at the same time.
"VisMail is not a traditional email system. VisMail is a corrections grade inmate email system designed specifically with the security needs of the corrections industry in mind," stated Brian Peters, Product and Marketing Director for Renovo. In order to maximize security, Renovo designed VisMail such that all emails are sent, read, reviewed, and stored within the facility's VisMail system – meaning that outside email services such as Gmail and Yahoo! email cannot be used with the system.
Furthermore, Renovo developed automated tools that scan all emails for misspelled and banned terms. Beyond that, facilities can configure the scanner to automatically reject emails based upon misspellings and/or banned content thresholds or flag them for officer review.
If officer review is desired or required, the officer can either approve the email for delivery or reject it. Whether rejected or approved, all emails are saved as part of the inmate and public user's profile and can be reviewed later by investigators. Peters reiterates, "The scanning tool can be used to help reduce officers' workload by highlighting suspicious content – equipping officers with powerful tools that traditional means of reviewing mail could never provide."
Allowing and Prohibiting Inmate Access
In order to accommodate facilities that do not have kiosks or do not want to give inmates access to kiosks, Renovo developed two methods for deploying VisMail. The first method, VisMail e2print, allows only the public to send emails. These emails are scanned, reviewed, and, if approved, printed and hand delivered to the inmate along with their traditional mail. Inmates will then be able to respond to the emails using traditional mail through the post office. Peters states, "For existing customers and prospects that do not have or want inmate kiosks, this is the quickest way to get up and running with VisMail."
The second method, VisMail eXpress, is designed for facilities that want to generate additional revenue and give inmates access to read and reply to emails electronically. From a kiosk located in the housing unit, eXpress allows inmates to read and reply to emails through a highly secured, browser-based interface. Peters states that "Inmates cannot access the internet though our software. The system is locked down to prevent inmates from accessing outside websites."
Inmate Kiosks
As a browser based system, VisMail eXpress can be added to most existing kiosks or other locked down computers that the inmates already have access to. VisMail eXpress is also conveniently designed to be fully integrated with Renovo's widely used visitation management system, VisManager.
When integrated with VisManager, VisMail works side-by-side with the visitation elements of the system. When an inmate logs in they will see when the next visit will take place on the station. The system then provides a warning to the inmate to finish composing their email. Peters explains, "We believe that this will reduce potential conflicts in the housing units where these kiosks are seen as a lifeline to family and friends."
Public Interface
The public will be able to access VisMail through a secured link on the facility's website. The public will register and then be able to buy e-stamps and compose emails to inmates. Each sent email, either from the inmate or the public, will cost about the same as a regular stamp. The public is able to purchase e-stamps for themselves and for the inmates – giving the inmate the ability to reply and send new emails.
As a precaution, the public is notified throughout the process that their emails are reviewed and can be rejected based upon content and misspellings; this is why Renovo included a spellchecker for both the public and the inmates. Peters stated, "The spellchecker is designed to aid the sender in ensuring their emails won't be rejected for simple misspellings."
VisMail Costs
The cost to send an email will vary for each facility, but generally speaking, each email will provide an affordable and convenient form of communication for families and friends of inmates. For facilities, VisMail will be installed for free and commissions will be negotiated with each facility. Peters states, "We believe that going to market this way will maximize the facilities' efficiencies and revenues."
For facilities that already have kiosks or are looking to install a video visitation system, VisMail allows for greater utilization of inmate kiosks or stations. Peters offers, "On-premise video and Internet video visits do not utilize the stations 100% of the time, so we believe that by offering the additional feature of inmate email we will help facilities generate additional revenues."
While many facilities look at ways to streamline their processes and generate revenues to offset the increasing cost of housing inmates, offering additional services like VisMail will prove to be just the financial help some facilities need.
About Renovo
Minneapolis-based Renovo Software has been developing software solutions for the corrections industry since 2003. Renovo's flagship corrections solution, VisManager, helps nearly 100 correctional facilities across North America gain efficiencies by scheduling and automating their visitation environments. For more information about Renovo Software, visit http://www.renovosoftware.com.
###