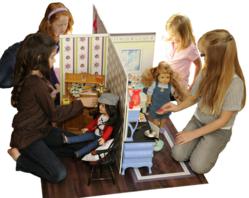 American Dollhouses are fully collapsible, easy to store, portable, durable doll house systems for 18" dolls.
Chicago, Illinois (PRWEB) December 15, 2011
American DollHouses by It'z Purple, llc™ has launched a new dollhouse line designed specifically for 18" dolls like American Girl® and Goetz® for the Holiday season filling a market niche. American Dollhouses are fully collapsible, easy to store, portable, durable doll house systems featuring watercolor based artwork that are available in 3 different design layouts. Designed and created by Kathy O'Brien, an Architect and mother of three from Lincolnwood, Illinois.
A unique feature about American DollHouses is that they are fully accessible for 360 degree play; every side has quality graphics that were hand painted by Kathy O'Brien and Grandma. Because the dollhouse provides 360 degree play area multiple children can play simultaneously, unlike a traditional dollhouse that only accommodates one child. Now friends and siblings can all enjoy and play together with the added benefit that it can easily and quickly be put away by the children themselves when it time to clean up. A must have for any young girl's 18" doll collection.
The dollhouse was original designed as a Christmas present in 2010 for Kathy's daughter Caitlin. Less than nine months later, and a trip to China, the dollhouses are now being manufactured in Chicago, Illinois for the 2012 Holiday season. This is the first affordable, fully collapsible dollhouse for 18" dolls being made for American Girl type dolls currently in the market. When Kathy was asked how she came about the dollhouse, she replied "I wanted a dollhouse for my daughter that wasn't a huge piece of pink plastic that became a permanent fixture in my living room. Nothing existed on the market, so I created one that was collapsible, allowed multiple children to play and esthetically pleasing to the eye. Just what a mom would want."
American DollHouses made its first public appearance at the Chicago Toy & Game Show in Chicago on November 19-20 where it was featured on local ABC News, CBS NEWS, and WGN News in Chicago as being "a toy to see". American Girl Doll enthusiasts were thrilled with the idea that their 18" dolls could finally have a home.
American DollHouses is a new start up company that is proudly being manufacturing in the United States. Kathy expects her 20 years in construction and architecture to be an invaluable asset as she expands the company's product line in 2012. The dollhouses are currently available online at http://www.americandollhouses.com, for more information you can contact Kathy directly at Kathy(at)itzpurple(dot)com.
###