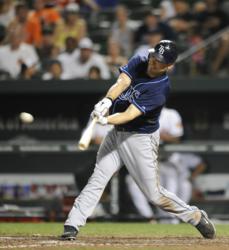 "I am so glad NVISION Laser Eye Centers is on my team," says Casey Kotchman, pro baseball player.
Newport Beach, Calif. (PRWEB) December 17, 2011
Professional baseball player Casey Kotchman credits his amazing 2011 season to improved eyesight.
Aided by NVISION Laser Eye Centers' ophthalmologist Dr. Tom Tooma and affiliate optometrist Dr. Gary M. Lovcik, Kotchman raised his batting average from .217 in 2010 to .306 in 2011. He also led the league in batting average against breaking ball pitches in 2011.
Kotchman's treatment included two unique methods, IPL therapy and RevitalVision, available at NVISION Laser Eye Centers'Dry Eye Clinic in Newport Beach, Calif.
"We discovered a bacterial infection," says Dr. Tooma. "We treated Casey with IPL therapy. This entailed four visits, one month apart, from October 2010 to January 2011."
"Many people already know the amazing benefits of the IPL (Intense Pulsed Light Treatment Laser) to create beautiful skin," says Tooma. "But this technological breakthrough has also been used to unplug the oil glands that line the upper and lower lid margins. The light serves as a healing, warm compress to liquefy any secretions that may be blocking the oil-secreting gland of the eye (called the Meibomian glands). Once the glands are unplugged, the oily layer of the tear film is restored. The oil helps keep tears in the eye, eliminating dry eye, bringing soothing relief, and in many cases, greater clarity of vision."
"Elite players such as Casey are highly tuned into visual cues that help them identify ball speed, spin, and trajectory," says Dr. Lovcik, an Anaheim Hills-based optometrist. "Through a pioneering brain training program called RevitalVision, we can now train and enhance an athlete's vision to supernormal potential which allows the player to read these cues earlier in the ball flight path. This split second makes a tremendous difference in their game."
After undergoing these treatments, Kotchman was promoted from the minors by the Tampa Bay Rays. Just six months later, he was batting .361 in 131 at-bats. And he was hitting with two strikes, best among major leaguers with at least 50 two-strike at-bats.
Kotchman, who holds the Major League Baseball (MLB) record for most consecutive fielding chances without an error, currently is a free agent. "I am excited about my future as a professional baseball player and am so glad NVISION Laser Eye Centers' ophthalmologists and affiliated optometrists are on my team," concludes Kotchman.
Fortunately even weekend warriors can find relief from dry eye using the same methods that helped Kotchman gain his competitive edge. An estimated 22 million people suffer from dry eyes daily. Computer screens, dry climates, medications and even menopause are among the causes of dry eye. More information is available at http://nvisioncenters.com/laser-eye-procedures/dry-eye-treatments/.
About Casey Kotchman
To say that there are few better fielders in Major League Baseball than Casey Kotchman is anything but an exaggeration. Kotchman, currently a free agent, holds the MLB record for most consecutive fielding chances without an error. From July 20, 2008 until Aug. 21, 2010, Kotchman converted 2,379 chances – besting the previous mark by more than 375. During that span, Kotchman also became only the third first baseman in MLB history to have a perfect fielding percentage for a season with at least 108 games. Over the course of his 727 games in the major leagues, Kotchman's fielding percentage stands at an impressive .998. His bat contributes additional value, as he showed off a career-high .306 batting average in 2011 with 153 hits and 48 RBIs. After ending his high school career as Baseball America's top high school prospect of 2001 and the Gatorade National High School Player of the Year, Kotchman was selected by Los Angeles with the 13th overall pick of the 2001 MLB Draft and started the 2006 season for the Angels. He subsequently has played with the Atlanta Braves, Boston Red Sox and Seattle Mariners before joining the Tampa Bay Rays for the 2011 season.
About NVISION Laser Eye Centers
NVISION Laser Eye Centers has ten locations throughout Southern California from San Diego to San Luis Obispo. In March, NVISION Laser Eye Centers became the first and only provider in California to offer LASIK eye surgery with the Swiss-engineered Ziemer Femto LDVD Crystal Line™ Laser -- the highest level of laser vision correction available today.
With more than 1,300 eye doctors who refer their patients and trust their own eyes to NVISION surgeons, NVISION Laser Eye Centers is the Eye Doctors' #1 Choice, and serves the counties of San Luis Obispo, San Diego, Los Angeles, Orange, Riverside, Ventura and San Bernardino.
For more information, visit http://www.NVISIONCenters.com or call 1-877-91NVISION (1-877-916-8474).
###