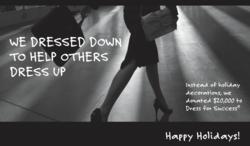 ...when we stopped and thought about the good that money could do for people hurting in this economy, it just felt wrong to spend it on something as frivolous as flowers, " said Archie Gottesman, Chief Executive Officer of Edison Properties
New York, NY (PRWEB) December 16, 2011
The Hippodrome used to spend $13,000 on poinsettias to decorate their lobby for the holidays. Until last year, when management decided the money would be better spent on helping New Yorkers in need, instead.
This year, the Hippodrome is giving $20,000 to Dress for Success. And while it is unusual for a luxury office space in midtown Manhattan not to be decked out for the holidays, knowing that the money is going to a good cause makes everyone's holiday spirits a little bit brighter.
"We used to decorate the lobby out of habit, and it did look beautiful. But when we stopped and thought about the good that money could do for people hurting in this economy, it just felt wrong to spend it on something as frivolous as flowers, " said Archie Gottesman, Chief Executive Officer of Edison Properties, which owns and operates the Hippodrome. "And we love Dress for Success. They do such tangible good for women who need help getting back on their feet and into the job market. We're proud to put them on our holiday gift list."
Founded in New York City in 1977, Dress for Success is an international nonprofit organization offering services to help their clients find jobs and remain employed. They are best known for promoting economic independence of disadvantaged women by providing professional attire, a network of support, and career development tools to help women thrive in work and life.
Edison Properties is thrilled to add Dress for Success to the ongoing list of groups to which they donate support, including Coalition for the Homeless, International Refugee Committee, Animal Haven, and more. To learn more about the Hippodrome, Edison Properties' ongoing dedication to community improvement or Dress for Success, please contact please contact Stacy Stuart at StacyS(at)edprop(dot)com.
###