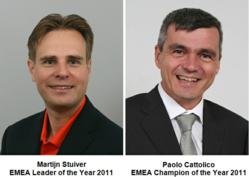 Boulder, CO (PRWEB) December 20, 2011
Vivit, the global, independent HP Software user community is pleased to announce Martijn Stuiver, Vivit Leader and COO, Westbury, as the EMEA Leader of the Year and Paolo Cattolico, Marketing, HP Software EMEA, as the EMEA Champion of the Year.
Martijn lends his expertise and leadership in the field of service management tool implementation to the Vivit community. As co-Leader for the Vivit HP Service Management Special Interest Group, Martijn organized and led global virtual events and roundtable discussions at all HP DISCOVER conferences and at the Customer Forum of the EMEAs in Paris and Berlin. He has been instrumental in forming cohesive communication and collaborations among Vivit Leaders and HP Software in EMEA. Martijn contributed his knowledge and assistance to the Vivit Germany annual conference in Frankfurt, and he has recently established a local HP Service Management Chapter of Vivit in the Netherlands where he resides.
Paolo, who lives in France, founded and initiated the Vivit Information Management TRIM Chapters in the United Kingdom, Ireland and the Netherlands. Through Paolo's outreach, Vivit adopted the TRIM user groups inherited from the HP Software acquisition. Vivit's by-laws do not allow HP employees to hold a leadership position in the user community, which was historically required for an award. However, Vivit created the Champion of the Year award for any individual who is an HP Software customer, partner or employee and who strives and succeeds to expand the Vivit community. Vivit expresses thanks to Paolo as an HP employee for his efforts to assist the TRIM user groups in joining Vivit, to extend the share of knowledge, and to welcome new members. Face-to-face kickoff meetings have been organized in the United Kingdom, and recruitment for further member countries such as Italy, Netherlands, Ireland and South Africa are now planned.
Both Martijn and Paolo were nominated from members for enhancing their experience and support with HP Software in an independent environment where member voices are heard and knowledge-sharing and collaboration are welcomed. The President of Vivit, Michael Collins, presented Martijn and Paolo with their awards on November 28, 2011 at HP DISCOVER in Vienna, Austria.
About Vivit:
Vivit is a non-profit corporation founded in 1993 (as OpenView Forum) by customers of Hewlett-Packard's Software products to represent the interests of HP Software customers, developers, and partners worldwide. Vivit represents and serves the broad HP Software and Solutions Community (including OpenView, Mercury, Peregrine, Radia, and more) and is the endorsed HP Software users group. Vivit currently has members all over the world representing all areas of Business and Industry.
###