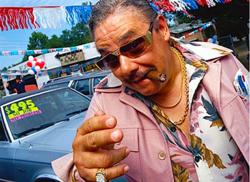 As a guy who has personally suffered with pattern hair loss, I am keenly aware that the consumer in this category is vulnerable to this kind of shell game.
Scottsdale, AZ (PRWEB) December 21, 2011
In a move designed to shine a spotlight on the dishonesty presently circulating across the internet, the parent company of HairGenesis®, Advanced Restoration Technologies Inc. (ART) today announced its intention to devote a substantial share of its effort to shutting down fake hair loss product comparison websites. Because pattern hair loss can trigger highly emotional near-panic, the hair loss product consumer is often vulnerable and not always well-informed. Preying on such persons, a number of hair product marketers have published fake hair loss product comparison websites. Unfortunately, the industry dishonesty has proven remarkably successful.
According to Hair Genesis
"Here's how the ploy works. A hair loss treatment product manufacturer enlists a third party to set up a website with a url that gives the impression that it is an objective third party consumer review entity. The website is populated with text and images that purport to compare a number of hair loss treatment brands, including the product brand secretly sponsoring the website. Fake data is published which supposedly shows that the sponsoring brand outperformed other brands in a series of analyses."
Links are embedded in the website which lead to various product brands. Sometimes the links leading to the competing brands are deliberately rendered inactive. Invariably, the links leading to the sponsor brand go through just fine. By this method, consumers are tricked into making a purchase for a product that they mistakenly believe to have demonstrated objective evidence of clinical utility. There are variations on this ploy, but the endpoint of the scam is always the same, i.e. to cause consumers to place unfounded trust in a product that generates sales through the art of deception. These websites are almost always dead-end entities -- i.e. with no way to easily verify who is the actual publisher of the site. However, it is not hard to figure out that the company that wins the comparison is almost certainly the same company behind the so-called 'consumer review' website.
By way of contrast, HairGenesis® is supported with actual peer-reviewed, published scientific research (e.g. http://www.hindawi.com/journals/ecam/2011/985345/). Chief Scientific Officer for the company, Geno Marcovici, Ph.D. says that "unfortunately, from the consumer's vantage point, objective proof such as that supporting the HairGenesis® line is a rarity in the category". In instituting a policy designed to go after the fake hair loss comparison websites, HairGenesis® seeks to create a better protected and more well-informed buying public.
In furtherance of this goal, HairGenesis® will work to establish sensible truth-in-advertising guidelines, create positive working conduits with the FTC and FDA, and also make available genuine hair loss information, hair loss research links, as well as other proactive steps. Cumulatively, the intention of this process will be to reward those hair treatment product manufacturers who 'play fair' and penalize those who do not.
Hair Genesis® is noteworthy as the first, and so far only, naturally derived hair loss treatment supported by published 3rd Party clinical research. Hair Genesis™ is sold primarily through internet based distribution via http://www.hairgenesis.com. Distributors of Hair Genesis® include http://www.omegatechlabs.com, http://www.hairlosswatch.com, & hairgenesisasia.com.
###