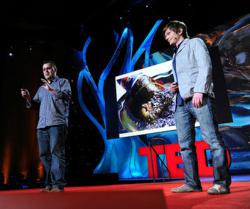 Long Beach, California (PRWEB) December 15, 2011
ABC's Diane Sawyer interviews Chef Homaro Cantu about his groundbreaking TED talk on using food to fight obesity and world hunger. Chef Cantu, along with Executive Pastry Chef Ben Roche, introduced the TED2011 audience to experience mberry's flavor-tripping effect for themselves. The two brilliant chefs brought with them an edible box of surprises and asked the audience to taste things like edible paper, seemingly Styrofoam packaging lemon slices, and bitter coffee. The crowd then took the mberry tablet and tried the items again. Unexpectedly, the audience ah-ed at the elevated difference mberry made in what they tasted. Homaro and Ben explained that the miracle berry, a fruit containing Miraculin, muted the sour sensors on the tongue showcasing the sweet flavor. Instead of a sour-tasting lemon, a lemon tastes like delicious lemonade.
Cantu and Roche went on to share with the TED2011 audience the potential uses mberry could have in the world. In addition to the artistry and leap of the imagination miracle berry tablets provide, mberry can counter real world health issues. Cancer patients going through chemo taste a metallic flavor in food; mberry tablets normalize the taste. Cantu said mberry can help curb famine and hunger by enabling people to enjoy vegetation growing in abundance such as wild plants which are full of nutrients. The mberry tablets could also make it painless for people trying to reduce their sugar intake.
About Chef Homaro Cantu
Chef Cantu owns the restaurant Moto in Chicago and also hosts the show Future Food on Discovery. He is also the author of The Miracle Berry Diet Cookbook. The cookbook details how to create healthy meals using mberry and has already pre-sold over eight-thousand copies. Cantu is known for his radical approach to food presentation and his efforts to use miracle berries to help solve global humanitarian issues.
About mberry
mberry is a global brand committed to truly making life sweeter through the unique benefits of the miracle berry. mberry offers only the highest quality hand-picked miracle berry products that are honest, innovative and 100% natural. mberry is the world's leading producer, distributor and promoter of miracle berry products.
Read more: http://www.digitaljournal.com/pr/465209#ixzz1gZyJNYi0
Tune in tonight December 15, 2011 on ABC World News with Diane Sawyer at 6:30 pm ET or check your local listings.
Contact:
Lauren Brice
mberry
681 W Wildhorse Dr.
Chandler, Arizona 85286,
United States
Tel: 480.248.9962 ex 102
http://mberry.us
# # #