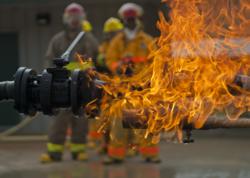 "This upgrade enables us to enhance our position as a leader in safety and reality-based training."
Lafayette, LA (PRWEB) December 19, 2011
Safety Management Systems, a division of Acadian Companies and one of the nation's largest providers of health, safety, environmental, medical and training services, has recently upgraded its fire field.
Designed, engineered and installed by CPL Systems, the fully automated system consists of a series of automated gas flow control valves that can be controlled from the safety of a remote panel. Automatic igniters will light the fire for the instructor, while sensors will indicate temperatures and the presence of gas flow or flame. Complete with control panel sensors and purge, the new system greatly improves the safety of realistic fire-training scenarios for students and staff.
Indoor and outdoor scenarios are grouped and controlled separately. Each panel is placed in a location that allows the controlling instructor/facilitator to see the scenarios that are controlled at each panel and to start or stop in order to make the scenario more realistic, an advance in controlling that also provides a safer training experience.
Indoor scenarios will take place inside a connex box outfitted with marine doors to simulate an engine fire and an electric panel fire. The addition of a purge system will prevent dangerous gas build-up that could lead to flash-over, backdraft or oxygen depletion.
Outdoor scenarios do not require the same technological advancements but remain in full view of the instructors and students. Students are coached on approach/retreat techniques before addressing a live automated fire simulation. The instructor/facilitator can re-ignite extinguished fires, identify when a fire should go out, and ensure that it does. In case of an emergency, the instructor can stop the flow of gas using the control panel; he can also re-ignite it once the scenario is safe.
"This upgrade enables us to enhance our position as a leader in safety and reality-based training," said operations manager Gentry Perry.
To view a demonstration of students conducting an attack on an engine fire from the exterior of a building, please visit safetyms.com.
###