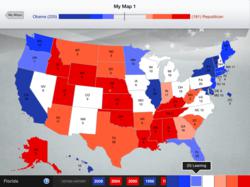 The 270toWin app is the new election night whiteboard.
Atlanta, GA (PRWEB) December 15, 2011
270toWin, an interactive website for the 2012 presidential election, announces the release of the 270toWin app for the Apple iPad. This new educational resource allows users to create and save detailed Electoral College projections as well as view maps from prior elections and state voting histories. The app is available in iTunes.
Interest in the Electoral College has only grown since the 2000 election, the first in living memory where the winner of the popular vote lost. Although it is early, 2012 is shaping up to be another competitive election, with many states "in-play". The 270toWin app lets users game out any number of electoral scenarios (e.g., one for each prospective challenger to President Obama). Alternately, one could create and save a projection every week to see how their thinking evolves as the election nears. The app is always available – it can be used in the classroom, on a plane, or at the beach, whether an Internet connection is available or not.
"Much of the inspiration for this app comes from the use of hand-held whiteboards by television anchors and political commentators," said Allan Keiter, founder of 270toWin. "These boards often are used to display the key to an election. Now, in 2012, with tablet technology and the 270toWin app, anyone can map out critical electoral scenarios in their own hands."
The 270toWin app was developed by What's Up Interactive.
About 270toWin
Launched in advance of the 2004 presidential election, 270toWin combines an interactive Electoral College map for the then-current presidential election cycle with historical maps and information associated with all prior elections. It educates its audience on the Electoral College, and the integral role it plays in electing a President. 270toWin is non-partisan, taking a neutral view of all candidates and parties, as well as avoiding controversial topics such as the pros and cons of the Electoral College system. To learn more, please visit http://www.270towin.com and follow us on twitter.
About What's Up Interactive
What's Up Interactive is a relationship-driven interactive marketing agency dedicated to growing our customers' businesses. What's Up delivers creative website design; mobile app development; video production; innovative organic search marketing that successfully builds online audiences; social media marketing strategies and email marketing solutions. Our clients include AT&T, Georgia Aquarium, Georgia Lottery and Fox Television stations, among many others. To learn more, please visit whatsupinteractive.com and follow us on twitter.
###