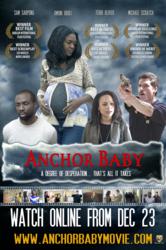 The most exciting thing about the filmmaker using Distrify as a movie distribution tool is that it allows the fans or anyone with a Facebook page, twitter and blog website to embed the Anchor Baby video player on their site and earn 10% commission
Toronto, Ontario (PRWEB) December 16, 2011
Alpha Galore films, the production company of the 2012 BAFTA shortlisted and multiple award winning film, Anchor Baby has teamed up with Distrify to release the movie via online Video On Demand starting December 23. Anchor Baby will be available for anyone to rent and watch online in premium HD quality for $4.99. VOD rental customers will be able to watch Anchor Baby on any PC or Mac computer, iPad, iPhone, iPod Touch and any other mobile device connected to the Internet. One will also have access to watch the rented movie 5 times within 30 days.
Anchor Baby is an emotionally charged tale of an illegal immigrant couple from Nigeria. Pregnant Joyce (Omoni Oboli) and Paul Unanga (Sam Sarpong) are on the run from the U.S. Immigration, desperately hoping Joyce will give birth in the U.S. so their child can become an American Citizen. The movie is starring award winning Nigerian Nollywood actress, Omoni Oboli  who has won three "Best Actress" awards at various film festivals around the world for her astonishing performance as Joyce Unanga. The movie also stars Hollywood based actor Sam Sarpong and Canadian actress/singer Terri Oliver. The debut film is written, directed and produced by Lonzo Nzekwe. Anchor Baby is one of the best films ever made by an African, which sheds light on the struggles of immigrants in the United States and other parts of the world. The movie has had successful theatrical releases in the U.S, Canada, Africa and United Kingdom. It was in the UK cinemas for a total of seven weeks.
The most exciting thing about the filmmaker using Distrify as a movie distribution tool is that it allows the fans or anyone with a Facebook page, twitter and blog website to embed the Anchor Baby video player on their site and earn 10% commission on all online sales generated when someone rents or buys the DVD through their embedded or shared link. This is a great revenue generating option for all the entertainment blog websites, Facebook page and twitter account owners out there. Click and share the movie online and get paid 10% commission for recommending a good movie to your friends. This is what we've have been doing for free all along, but with Distrify, one can get paid a percentage of the revenue when we share the movie video player online. Imagine writing a review on a movie online, and having the same video embedded at the bottom of the page for the readers to watch the entire movie instantly. This is a great incentive to get people to promote the film and make it go viral online. For more information on how to become an affiliate, click the share button on the Anchor Baby video player on their movie website to start sharing Anchor Baby movie now.  One can also check out the Anchor Baby Distrify webpage for more information.
According to Nzekwe who has been distributing the film Independently under his Alpha Galore films production company, "teaming up with Distrify was the best option out there to release this film to the vast majority of fans all over the world who are waiting to see the film. Not everyone will have to time to go and watch your movie at the cinemas because of so many different reasons; so we decided to get it out online. That way, people from all over the world can have access to experience this great movie, and at a very affordable price too". He also stated that time has passed when distributors will buy independent films and pay enough money that will enable the filmmakers recoup their expenses. "I decided to take control and distribute Anchor Baby to the fans around the world because I understand how best to reach the film's audience better than anyone else". Talking to Lonzo Nzekwe, one will get the feeling that he is a very passionate, one-man-gang filmmaker who writes, directs, produces and also distributes his own work of art. That assumption cannot be far from the truth judging by the current buzz and work he has done on this award winning film.
From December 23, you can watch the movie on their movie website, Facebook fan page or just about anywhere you see the embedded Anchor Baby video player online.
###