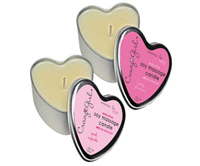 Given that today is National Cupcake Day...there is no better way to treat your loved one and give them all that they 'desserve'
Pocatello, Idaho (PRWEB) December 15, 2011
Online lingerie retailer Mykarnation.com announced today the addition of Classic Erotica's irresistible scent of creamy pink cupcakes to their line of shave crèmes and massage candles. Karnation Intimate Apparel owner, Michelle Meyer, is excited to recommend both of these creamy temptations, available to customers both online at Mykarnation.com, as well as in Karnation Intimate Apparel boutiques in Idaho Falls, Pocatello and Twin Falls, Idaho.
"Given that today is National Cupcake Day," said Meyer, "There is no better way to treat your loved one and give them all that they "desserve" than with this creamy, pink cupcake-scented indulgence."
The soy massage candle in Pink Cupcake by Crazy Girl Seductive will delight the senses and bring both joy and warmth to partners as they cozy up on a cold winter evening. The candle features a clean burning hemp wick and soft whispering flame. The candle's light feeling of satin and aroma of freshly frosted pink cupcakes make it an irresistible and kissable temptation – the ultimate in intimate to enjoy this holiday season and beyond.
This perfectly pink pal may be used for massage or as a moisturizer and skin softener.
"If you're like me," Meyer added, "and you want to add some sugar and sweetness to your encounters, then try this enticing soy massage candle in Pink Cupcake. It's sure to tempt you to kiss every part that it is drizzled on."
Another sensation new to Karnation Intimate Apparel's line-up of top selling romantic accessories is Crazy Girl Intimate's rich shave crème in Pink Cupcake. The exciting new product is loaded with crave-a-luscious scents that makes the skin look and feel flawless. Users will feel confident having such smooth and soft skin and adding sweetness to every intimate encounter. Whether customers are looking to bare it all or add a subtle, romantic scent underneath their wardrobe, this delicious pheromone infused shave crème will soon become an irresistible, crave-able addition to their must-have line up of boudoir accessories.
For more information about the ultimate in intimate apparel available online, visit http://www.mykarnation.com, or follow the company on Twitter @mykarnation and Facebook for the inside scoop on specials, new product launches and more.
About Karnation Intimate Apparel, Inc.
Karnation Intimate Apparel offers the ultimate in intimate. Always fun and a little bit flirty, Karnation has three physical stores located in Idaho Falls, Pocatello and Twin Falls, Idaho, all designed to help customers turn up the heat in their love life as much or as little as they want to. Karnation's personal shoppers have built a first-class reputation for putting customers first with unmatched customer service and undivided personal attention. At Karnation, discretion is the name of the game and the company cherishes the customer's privacy. Whether customers want to embrace an innocent, ultra-feminine vibe, unleash an adventurous side, or get a little more creative in the romance department, Karnation makes it easy with an extensive, exclusive selection of top-selling and time-tested products featuring intimate apparel, hosiery, bridal lingerie, plus size lingerie, romantic accessories, romantic gifts, costumes, men's apparel and more.
###