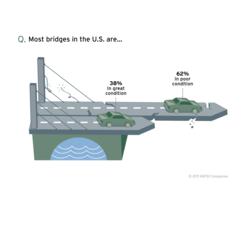 Bridges are first and foremost socio-economic lifelines, vital to our economic health
Kansas City, MO (PRWEB) December 15, 2011
Innovation and creativity play an increasingly essential role in modern bridge design and engineering. With more than 1 in 4 bridges in America structurally deficient or functionally obsolete, our nation is facing an investment of billions of dollars to repair its aging bridge infrastructure.
While allocating the funds needed to rebuild or replace deficient bridges is a significant challenge for the nation, discovering new ways to do more for America's bridge infrastructure with fewer resources is the challenge – and an opportunity – for those who design, engineer and build bridges.
"Bridges are first and foremost socio-economic lifelines, vital to our economic health at the local, regional and national scale. Many parts of the U.S. can directly associate growth with the construction of a new bridge," said Ted Zoli, HNTB national technical director for bridges. "It's why we are so incapacitated when we lose a bridge, since the very configuration of our urban environments and regional transportation systems are predicated on this infrastructure. They bring people and goods together, and if they fail, we fail. It's necessary that we see bridges for what they are, a durable investment in our future."
According to a recent America THINKS survey, a majority of Americans believe most U.S. bridges are in poor condition (62 percent) and nearly three-quarters think they are not inspected as often and thoroughly as they should be (73 percent).
"It's true much of the nation's bridge infrastructure – built in the middle of the last century as public works projects or as state highways expanded and the Interstate Highway System was constructed – is reaching the end of its anticipated life," Zoli said. "However, the vast majority of these structures remain sound, and they undergo regular inspections to maintain safety."
While Americans tend to underestimate the average lifespan of a bridge (36 years versus the actual 50 to 75 years), a majority agrees that most bridges are safe (65 percent). Concern, however, runs higher in rural areas, as 50 percent assume the bulk of the nation's bridges are unsafe (versus 33 percent in more populated areas). More rural Americans also worry that most bridges are in poor condition (76 percent versus 60 percent).
Zoli, who was selected as a MacArthur Foundation Fellow in 2009, most recently led the design of a replacement bridge over Lake Champlain, connecting Crown Point, N.Y., and Chimney Point, Vt. He grew up in the area, driving over the original span – which opened in 1929 – hundreds of times. It was demolished two years ago after significant deterioration forced its closure. The new bridge, a modified network tied-arch span, was completed under an accelerated delivery schedule and opened Nov. 7, 2011.
"One of the biggest problems facing the nation's bridges is how to pay for the repair and the replacement of deficient structures, as well as the routine inspection and maintenance of bridges. Traditional state and federal gas tax revenue is in steep decline due to inflation and the increased fuel efficiency of vehicles while departments of transportation are facing severe budget cuts," Zoli said. "We need to leverage new and improved ways of financing infrastructure, as well as to develop new strategies to design and deliver bridges more efficiently."
Many Americans seem to agree. Nearly half (48 percent) said in the future they would prefer to pay for the maintenance of existing bridges and construction of new local bridges through more tolls rather than higher sales taxes (16 percent), higher gas taxes (12 percent) or higher proper taxes (8 percent).
"Whether it's a major highway crossing like the Blennerhassett Island Bridge over the Ohio River or a pedestrian span like the Bob Kerrey Bridge in Omaha, bridges help define our sense of place, enhance our quality of life and contribute to our economic vitality. Preserving, protecting and improving them are investments worth making."
About the survey
HNTB's America THINKS national bridge survey polled a random nationwide sample of 1,029 Americans Sept. 16-22, 2011. It was conducted by Kelton Research, which used an e-mail invitation and online survey. Quotas were set to ensure reliable and accurate representation of the total U.S. population ages 18 and over. The margin of error is +/- 3.1 percent.
About HNTB
HNTB Corporation is an employee-owned infrastructure firm serving public and private owners and contractors. With nearly a century of service, HNTB understands the life cycle of infrastructure and solves clients' most complex technical, financial and operational challenges. Professionals nationwide deliver a full range of infrastructure-related services, including award-winning planning, design, program delivery and construction management. For more information, visit http://www.hntb.com.
# # #