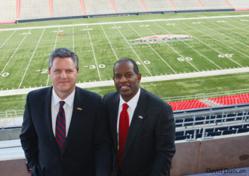 Lynchburg, VA (PRWEB) December 15, 2011
In conjunction with today's press conference to introduce Turner Gill, Liberty University's eighth head football coach, Chancellor and President Jerry Falwell, Jr., announced that the university will conduct a FBS feasibility study to evaluate the position of its football program within NCAA Division I intercollegiate athletics.
The goal of the study is to evaluate Liberty University's options with regard to the ever-changing landscape of NCAA Division I FCS and FBS football.
Liberty currently competes at the NCAA FCS level as a member of the Big South Conference, which started competition in football in 2002. Since the beginning of Big South play, Liberty has won four Big South titles (2007, 2008, 2009 and 2010).
Liberty has competed at the Division I level since 1988 (24 years), posting 13 winning seasons, 143 victories and averaging 6.0 victories per season.
Liberty will conduct the FBS feasibility study in conjunction with Carr Sports Associates. Carr Sports Associates has assisted Liberty with several projects during the last two years, including the hiring of Gill as Liberty's eighth head football coach.
Statement from Liberty University Chancellor and President Jerry Falwell, Jr.:
Since Coach (Danny) Rocco's departure, we have spoken with many potential head coach candidates before offering the position to Turner Gill, yesterday.
Liberty greatly values its membership in the Big South Conference, but given the unexpected turn of events, we believe the time is right to conduct this study. Due to the changes we have all seen in the college football landscape, we need to thoroughly evaluate the future of Liberty University football.
During our discussions with these head coaching candidates, it quickly became clear to us that the future of Liberty's football program was their primary concern. The candidates were particularly interested in whether Liberty had plans to move to the Football Bowl Subdivision level (FBS) at some point. In order to determine what course Liberty should pursue for its football program, including when Liberty should attempt to move to the FBS level, Liberty has commissioned an FBS Feasibility Study by Carr Sports Associates. The study should be completed in February or March.
Liberty University, located in Lynchburg, Va., is the world's largest Christian university. More than 12,000 students attend classes on its 6,500-acre residential campus and more than 60,000 study in its thriving online education program.
###