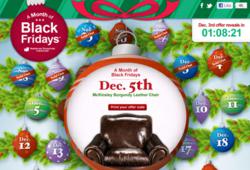 COLUMBUS, OH (PRWEB) December 17, 2011
Want to make the holidays even merrier? American Signature Furniture is granting loyal customers a month of holiday bargains. Through December 24th, deal hunters can sign up to receive a different special every day and instantly enter to win a gift card worth $100 each day of the promotion.
Participating in the holiday deals is simple, too. Customers can gain access to the daily bargains by heading to the American Signature Furniture website and clicking the "A MONTH OF BLACK FRIDAYS" tab. Upon enrollment, visitors will then begin receiving daily deal emails. American Signature Furniture has simplified holiday gift giving!
American Signature Furniture fans can "like" the Facebook page at http://www.facebook.com/AmericanSignatureFurnitureUSA and interact with the brand for great gift-giving ideas. And by following @AmSigFurniture on Twitter, customers can join conversations with other decorating divas and stay updated on all things holiday related. Fans are encouraged to share the daily deals with their friends and family members in order to spread gift-giving cheer!
ABOUT AMERICAN SIGNATURE FURNITURE
American Signature, Inc. owns and operates American Signature Furniture, Value City Furniture and the American Signature manufacture brand. Ranked as one of the largest furniture retailers in the country, the retail stores are supported by a total of five distribution centers catering to 128 store locations spanning 19 states throughout the Eastern United States. American Signature Inc. headquarters are located in Columbus, Ohio.
###