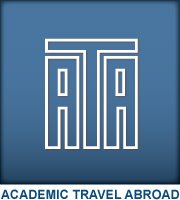 Washington, DC (PRWEB) December 15, 2011
Academic Travel Abroad, a 61-year old international travel company that has served the country's elite non-profit organizations, museums, and universities in operating specialized educational travel programs for adults and immersive study abroad programs for students, will transition to new owners on January, 1, 2012. Long time employees and co-owners Kate M. Simpson and Chase V. Poffenberger will acquire the company's remaining shares from David and Susan Parry in January 1, 2012.
On staff since the late 1980's, Simpson and Poffenberger worked with David Parry to ensure the long term stability of the company through diversification of its portfolio. In 1994, ATA acquired CET Academic Programs, a premier study abroad organization. In 2008, the American Museum of Natural History in New York outsourced the management of their travel program (Expeditions) to ATA. In 2009, the company launched Professionals Abroad to develop and market high quality international professional programs to associations for their members' career development and continuing education. In addition, the company manages the reservation and customer service centers for National Geographic Expeditions and The American Museum of Natural History's Expeditions.
Kate Simpson became ATA's President in 2005. She is involved in all aspects of Academic Travel Abroad's business, including its study abroad division, CET Academic Programs. In 2008, she completed a three-year executive education program for owners and presidents at Harvard Business School and holds a degree in East Asian Studies from Yale University. She serves on the Board of Directors of NTA (the nation's premier tour operator association) and is Vice President of the Board for the Fund for Education Abroad.
Chase Poffenberger has served as Executive Vice President for the past five years. She oversees ATA's tour business partnerships with non-profit institutions, as well as its professional delegation division, Professionals Abroad. Chase also leads ATA's Sales & Creative team, developing new product and brainstorming new marketing approaches. Chase completed her MBA at the University of Maryland in 1998 and holds a BA in Chinese Studies from Wellesley College.
David Parry acquired Academic Travel Abroad in 1972 from Fritz Kaufman, an Austrian refugee who committed to educating Americans about the world after WW2.
"During my forty years in travel, I found myself in four or five different businesses as the industry changed. Exciting times! Since Kate and Chase became owners in 2005, they have charted a wise course balancing risk management with innovative new business approaches, and have achieved amazing results, even during an economic downturn. Now I look forward to passing the torch to Kate and Chase to shape the future of ATA," said Parry. "For my part, I'll serve happily as a consultant; continue to hike in the Alps and spend more time with my grandchildren!"
###