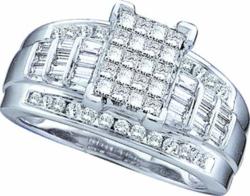 Greenbelt, MD (PRWEB) December 18, 2011
As the big giveaway at three Waldin Jewelers stores and one Gold N Diamonds store (http://www.waldinjewelers.com/) nears it's end, the excitement is growing. That's because of what's at stake. On December 24, 2011, the three Waldin Jewelers stores will each be awarding iMac computers while one Gold N Diamonds establishment will be giving away a Cadillac CTS. The Cadillac giveaway is especially exciting and drawing a lot of attention as the date gets closer.
"Giving away a Cadillac CTS is the perfect way to celebrate the season," noted a company spokesperson. "This luxury car exemplifies and reflects our company's high standards. It's elegant and tasteful and has a youthful feel. One lucky person will receive an amazing Christmas present this year."
In order to enter the drawing, people must register at the Gold N Diamonds location in Beltway, MD. Plus they must be present on the day of the drawing to win. No purchase is necessary in order to enter the contest but you must be at least 18 years old. One entry per week is permitted in this random drawing with entries first being accepted on December 18, 2011. The two-year lease includes 10,000 miles per year.
Other prizes that are being given out at all four locations include a state-of-the-art 32-inch High Definition TV, an amazingly versatile phone, the Apple iPhone 4S, and a topnotch web-based device, the Apple iPad 2. The entire contest is focused on eliciting good cheer, creating excitement and providing patrons with some very fine thank you gifts for taking the time to venture to Waldin Jewelers and Gold N Diamonds
A company spokesperson said, "We decided to make everyone a winner. Only one person can win the car and three will get iMacs. But everyone who visits one of our locations from December 15th through the 24th will be given, absolutely free, a charming silver and diamond snowflake pendant." The spokesperson added, "This is an exquisite piece and a beautiful emblem for the holiday and a fine representation of our focus on providing our customers with jewelry that is always of the highest quality."
Waldin Jewelers and Gold N Diamonds first focus on quality. Their extensive catalogue includes items from the Bellagio, Soliel and Trio collections and a vast array of bridal jewelry. With the goal of ensuring that customer expectations are met and that their patrons are totally satisfied with their purchases, they work with each person as an individual. The company carries engagement and wedding rings, necklaces, earrings and pendants as well as watches, bracelets and gift items.
For more information on the 5 Weeks of Christmas Giveaway and the Cadillac CTS promotion go to http://www.waldinjewelers.com/how-to-enter-cadillac . The Waldin Jewelers homepage may be accessed at http://www.waldinjewelers.com/. Their four stores are located at Gold N Diamonds – Greenbelt at Beltway Plaza, Greenbelt Road, Greenbelt, MD 20770; Waldin Jewelers – Dulles at Dulles Town Center Mall, 2100 Dulles Town Circle # 195, Dulles VA 20166; Waldin Jewelers – Frederick at Francis Scott Key Mall, 5500 Buckeystwon Pike, #680, Frederick, MD 21703; and Waldin Jewelers – Hanover at Arundel Mills Mall, 7000 Arundel Mills Circle, #159, Hanover, MD 21076.
###