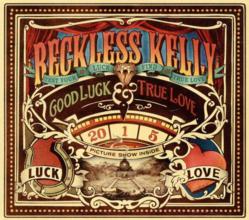 Over the last 25 years, we have built our reputation upon consistent quality, and we take pride in executing the designs of talented artists across the country
Indianapolis, IN (PRWEB) December 17, 2011
World Media Group, a global leader in the production of optical discs and promotional products, announces its role in the manufacturing of Reckless Kelly's album 'Good Luck & True Love.' The album has received a nomination in the Best Recording Package category for the 53rd Annual GRAMMY awards, which will be held on February 13, 2012 and will be broadcast on CBS Television Network from 8 - 11:30 PM ET/PT.
"This nomination reinforces World Media Group's commitment to providing quality products and services that add value to all of our customers," said Jeff Mellentine, President and CEO. "Over the last 25 years, we have built our reputation upon consistent quality and we take pride in executing the designs of talented artists from all over the country."
The Recording Academy defines the Best Recording Package category as newly created recording packages, in any configuration, released for the first time during the current eligibility year, even if the contents were previously released. Only original artwork is eligible.
World Media Group brought to fruition the amazing design of artistic directors Sarah and Shauna Dodds of Backstage Design Studio. The duo successfully created a visual component to Reckless Kelly's signature sound. The album cover harkens back to the posters of snake oil salesmen and traveling sideshows of the late 19th Century.
Other 2012 nominees for Best Recording Package include Jay-Z & Kanye West's 'Watch the Throne,' Arcade Fire's 'Scenes from the Suburbs,' Chickenfoot's Chickenfoot III and J. Viewz's 'Rivers and Homes.' The award will be presented to the winning album's artistic director. Michael Carney won in 2011 for his design of The Black Keys' album 'Brothers.'
About World Media Group:
In over two decades, World Media Group, Inc. has grown into one of the largest and most successful independent media manufacturers in the United States. WMG is a leading manufacturer of optical discs and promotional products including CDs, DVDs, USB Flash Drives, Plastic Cards and more. World Media Group's service divisions provide streamlined inventory control, fulfillment and warehousing for their clients which include many Fortune 500 companies, major record labels and independent artists. For more, visit the World Media Group Website.
###