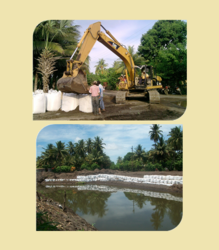 We thank Frutera Company for helping us all the time
Guatemala, September 2011 (PRWEB) December 16, 2011
The communities surrounding the Frutera's farms were negatively affected by hurricane Agatha last year. Frutera invested US$6,000 this year in the form of machinery, materials, fuel, and labor to benefit several communities that are isolated by the flooding of the Mico River.
With the arrival of the rainy season, the inhabitants of these rural towns live in fear of having their homes and possessions carried away by flood waters in this disaster prone area. Another problem caused by the flooding of the Mico River is the destruction of the main highway, which also cuts off their ability to communicate with the rest of the country.
The towns that benefitted from this project were Huitzitzil, San Francisco Madre Vieja, Las Trozas, El Semillero and Ticanlú in the municipality of Tiquisate, Escuintla. The Mayor of Tiquisate expressed his appreciation for Frutera's help and support: "We thank Frutera Company for helping us all the time".
###