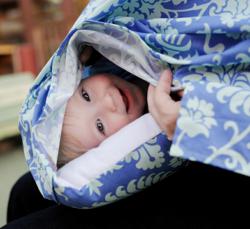 "Our judges loved your breastfeeding cover and pillow in one design." - Dawn Matheson, Executive Director, Mom's Choice Awards
Austin, TX (PRWEB) December 20, 2011
Covillow, LLC is pleased to announce its nursing cover being a Gold Recipient for the Mom's Choice Awards, deeming it one of the best for family-friendly media, products and services. The Mom's Choice Awards® (MCA) is an international awards program that recognizes authors, inventors, companies, parents and others for their efforts in creating quality family-friendly media, products and services. Parents, educators, librarians and retailers look for the Mom's Choice Awards Honoring Excellence seal of approval when selecting quality materials for children and families.
"We launched our product in June of 2010, and we have been overwhelmed with response from customers" said Candice Boehm, Covillow, LLC Founder and CEO. "We hope this prestigious recognition allows us to reach more breastfeeding mothers so they can enjoy the benefits of Covillow."
An esteemed panel of judges includes education, media and other experts as well as parents, children, librarians, performing artists, producers, medical and business professionals, authors, scientists and others. A sampling of the panel members includes: Dr. Twila C. Liggett, ten-time Emmy-winner, professor and founder of PBS's Reading Rainbow; Julie Aigner-Clark, Creator of Baby Einstein and The Safe Side Project; Jodee Blanco, New York Times best-selling author, Priscilla Dunstan, creator of the Dunstan Baby Language; Patricia Rossi, host of NBC's Manners Minute; Dr. Letitia S. Wright, D.C., host of the Wright Place™ TV Show; and Catherine Witcher, M.Ed., special needs expert and founder of Precision Education, Inc.
MCA judges are bound by a strict code of ethics which ensures expert and objective analysis free from any manufacturer association. The evaluation process uses a propriety methodology in which entries are scored on a number of elements including production quality, design, educational value, entertainment value, originality, appeal and cost.
The end result is a list of the best in family-friendly media, products and services that parents and educators can feel confident in using.
For more information on the awards program and the honorees, visit http://www.MomsChoiceAwards.com.
You can purchase Covillow today directly from Covillow, LLC at http://www.covillow.com. Covillow, LLC was established in 2010 by Candice Boehm, a stay at home mom and experienced breastfeeding mother of two, with a passion to make breastfeeding easier to fit into the busy lives of today's mothers.
This release is for information purposes only and contains forward-looking statements of the company. A variety of factors could cause the company's actual results and experience to differ materially from the anticipated results or their expectations expressed. Additional information regarding those factors is available upon request.
###