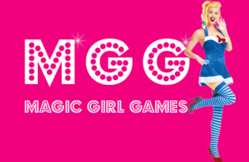 MagicGirlGames.Com Offers Girls Chance to Win Money by Doing What They Love To Do
(PRWEB) December 20, 2011
Browser based mini games offer instant entertainment without any downloading hassle or specific hardware requirement. The popularity of makeover and cooking games indicate a high number of female gamers who play girl games online. A new website, magicgirlgames.com has recently been launched as a mini-game website targeting female gamers specifically. Celebrating their launch, the website is offering an amazing opportunity to win $20 Amazon coupon every week.
Girls can easily enter the website's 'Facebook like Contest' by simply liking the Facebook page for magicgirlgames.com. One winner will be announced every week on Mondays starting from November 20th. Revealing further details about the competition, the spokesperson for magicgirlgames.com said, "We are running a gaming website here targeted towards females who love to play girl games online. So, we understand the exhilaration and excitement of winning. Through our FB like contest, we want everyone to be a winner. Therefore, the offer will continue forever without any repeat winners."
Magicgirlgames.com distinguishes itself by bringing a selection of only the best girl games around. The website presents around ten different categories of girl games including dress up games make up games, cooking games, pet games, fairy games, etc. What gives it an even wider appeal is the variety of games to target several age categories. While younger girls can enjoy creating their own ponies and pets, teenagers can choose to dress up their favorite celebrity.
The spokesperson also comments on the website's appeal, "Girls, to be honest, are more versatile than boys. Some like cooking, others adore pets and some have a natural aspiration for becoming a makeup artist or dress designer. We have a game to appeal to all kinds of girls."
Navigation around the website is easy with each girl game listed under its separate category. Registration is not mandatory. Players can simply visit the website and start to play girl games online. To learn more about the website and its Facebook like contest, visit the website @ http://www.magicgirlgames.com.
About MagicGirlGames.com
Magicgirlgames.com is a newly launched website offering online browser based mini games targeted specifically towards the girl. The website distinguishes itself from the competition by offering amazing new games, easy to navigate eye-catching interface and several fresh features. For contact, please use the following details.
Contact Details
Website: http://www.magicgirlgames.com
Email: admin(at)magicgirlgames(dot)com
Facebook: http://www.facebook.com/MagicGirlGames
###