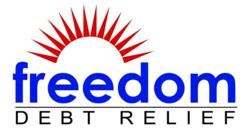 Carrying credit card debt is never part of a healthy financial strategy, even if it is caused by a generous spirit.
San Mateo, Calif. (PRWEB) December 16, 2011
Holiday shopping is in full swing these last few weeks of the year, beginning with already-increasing levels of credit card debt. Harried shoppers might be tempted to pull plastic out of their wallets and throw caution to the winds – but going into debt this season can create financial pain next year, said Freedom Debt Relief (FDR) vice president Kevin Gallegos.
The U.S. Federal Reserve Bank reported last week that total consumer borrowing rose by $7.6 billion in October, with much of that debt paying for cars and college education, but some charged to credit cards. Credit card borrowing rose by 0.6 percent in September and by the same amount in October.
"Consumers might be growing tired of scrimping and saving during the past two years of the recession," said Gallegos. "They also might be feeling more confident, after unemployment rates fell to a three-year low in November. But it remains important to live within one's means. Carrying credit card debt is never part of a healthy financial strategy, even if it is caused by a generous spirit."
Gallegos listed the following 10 ways for consumers to control their spending so that the New Year is as happy as the holiday season.
1. Budget, budget, budget. Shoppers should understand how much they really have available to spend on the holidays before they walk into the mall or log onto the Internet, Gallegos said. Additionally, shoppers have a consistent tendency to overspend during the holidays, as evidenced by many annual holiday polls.
2. Use a list. Shoppers should plan for all gift expenditures, including gifts for teachers and party exchanges, holiday tips, and the costs of shipping packages and entertaining. Also, this year's holiday spending survey by the National Retail Federation found that nearly 60 percent of shoppers planned to take advantage of sales to buy items for themselves or their families. Those expenditures were anticipated to increase those shoppers' holiday spending by nearly 20 percent over what they planned to spend on gifts. Shoppers must plan for this – or make it a point not to shop for themselves.
3. Re-evaluate mid-shopping season. "If you have already overspent, remember you can change your mind," Gallegos said. Most stores accept returns, and many retailers offer extended return policies during the holidays. Shoppers feeling pangs of overindulgence guilt still have time to return the excess and choose more budget-savvy gifts instead.
4. Avoid store credit card temptation. Many retailers tempt shoppers with one-time discounts when they apply for a store-branded credit card. Gallegos advises using caution, however, because these cards usually come with unfashionably high interest rates. "If you do not repay the balance in full, the interest charges could equal or outweigh the savings at the cash register," Gallegos warned.
5. Pay in cash. A guaranteed way to avoid credit card debt after the holidays is to pay in cash. Some retailers have revived the practice of buying on layaway, where customers purchase an item on installment payments to the store. This can be a way to ensure an item's availability and avoid credit card debt.
6. Shop online, and seek out free shipping offers. Online shopping allows shoppers to compare prices, avoid pressure, and search for promotion codes or visit reliable deal sites. As a bonus, online shopping eliminates tempting in-store displays. Be wary of websites that pressure customers to impulse buy with time- or quantity-limited sales. Also keep shipping costs in mind. Consumers can watch for free shipping codes or promotions, or visit http://www.freeshippingday.com, where a plethora of online retailers will offer free shipping today (Dec. 16).
7. Save by creating homemade gifts. People can show their appreciation for others while keeping it simple (and affordable). The first step is to decide on a plan -- perhaps two kinds of delicious cookies -- and then spend an afternoon in the kitchen. Package cookies in attractive containers (ideally something that can have a useful second life, such as a large travel coffee mug) and hand them out to the mailman, dog walker, trash collector, etc. Other ideas are popcorn balls or mini-loaves of quick bread or cake.
8. Stay home. Spend some time sprucing up living spaces to create a comfortable, enjoyable place for fun and relaxation. Families and friends can enjoy quality time together by borrowing movies from the library, reading holiday favorite books together, renting video games, or investing in a deck of cards and a game-rule book.
9. Apply for seasonal work. During this time of year, even in a tight economy, opportunities abound for part-time work at retailers or on a freelance basis, from snow shoveling to babysitting, house sitting or pet care while others travel.
10. Get help if needed. People who have been out of work might find it hard to make ends meet, or to be able to afford gifts for children. "If you are eligible for assistance, look into support from local nonprofit organizations that might be able to brighten your holidays, whether with a toy donation program, winter coat drive or by putting a holiday meal on the table," Gallegos said. "Those who can afford to help in these ways will find this another way of giving and participating in the warmth of the season."
"People who are financially savvy will remember that ultimately, the holidays are not about what you give and get, but about sharing the season and enjoying good times with friends and loved ones," Gallegos said.
About Freedom Debt Relief (http://www.freedomdebtrelief.com)
Freedom Debt Relief provides consumer credit advocacy, also known as debt resolution, services. Working as an independent advocate for consumers to negotiate with creditors and lower principal balances due, the company has resolved more than $1 billion in debt for nearly 100,000 clients since 2002. The company is an accredited member of the American Fair Credit Council (formerly The Association of Settlement Companies) and a platinum member of the International Association of Professional Debt Arbitrators. FDR holds the Goldline Research Preferred Provider certification for excellence among debt relief companies.
Freedom Debt Relief is a wholly owned subsidiary of Freedom Financial Network LLC (FFN). Based in San Mateo, Calif., FFN also operates an office in Tempe, Ariz. The company, with more than 500 employees, was voted one of the best places to work in the San Francisco Bay area in 2008 and 2009, and in the Phoenix area in 2008, 2009 and 2010. FFN's founders received the Northern California Ernst & Young Entrepreneur of the Year Award in 2008.
###