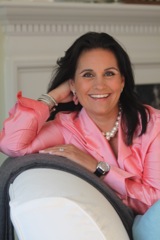 (PRWEB) December 16, 2011
Prominent interior designer Dawn Gepfert, of Dawn P. Gepfert Design, was featured in the holiday issue of Morris Media's Fairfield Magazine. The cover and spread feature the private residence of this twenty five year veteran of the design industry. The article,A Visual Feast, shares tips about decorating and entertaining for the holidays that work with the design of the home. Using lots of simple, easy to find, and affordable items, Ms. Gepfert's designs include lots of natural greens, fruits, candles, mercury glass and glass jars filled with sparkly silver ornaments. As in her interior designs, holiday decorations reflect her clean and edited style. The home, while graceful and elegant, is used for entertaining and living well.
"I am thrilled to be featured in Fairfield Magazine and really appreciate the opportunity to share my home and love of entertaining with my community. I love to entertain and give as much attention to the ambiance I create as to the food that I make. Entertaining is another avenue in which to express yourself. I really think that when food is prepared with great attention, the space is beautiful and the people fun and interesting, the evening can be nothing but exceptional," says Ms. Gepfert.
About Dawn Gepfert
Dawn Gepfert is the owner and principal of Dawn P. Gepfert Design, a boutique interior architecture and design studio in Southport, CT. Ms. Gepfert holds a degree in interior architecture and has worked with several of the nation's most prestigious commercial architecture firms. After designing large commercial projects on the West coast, Ms. Gepfert set up practice on the East coast specializing in high end residential design and renovation as well as small to mid size commercial projects. She has also designed custom fabrics and furniture.
About Morris Media
Morris Media Group is the leading publisher of high-quality lifestyle magazines for the nation's most sophisticated, savvy, and sensible readers. MMG's five award-winning magazines and website townvibe.com are cherished by 150,000 regular readers. People welcome the magazines, read the magazines, and love the magazines.
###