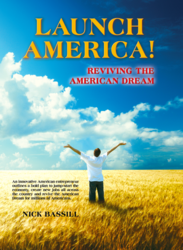 Nothing is more vitally needed in this country than getting the economy up and running. Opening up the investor pool, as Nick Bassill proposes, has the potential to make available much more capital for new business ventures. M. Scotto, Chairman, SCORE
Los Angeles, CA (PRWEB) December 19, 2011
The author, an American inventor and entrepreneur himself, believes that jobs can be created and America rebuilt by increasing the number of startups.
A key element of the Launch America Initiative is Bassill's proposal for a major tax credit and safety net for all the men and women who invest in startups across America, that would help protect 80% of their funds invested in new businesses. As Bassill explains, without any cost to the taxpayer, this will spur the funding needed to expand America's small businesses and exponentially increase the formation of startups, and new jobs. As virtually every politician and pundit has affirmed, it is startups and the small businesses they create that provide the new jobs America needs. "Now's the time to turn that concept into real action, and here are the important first steps to triggering an avalanche of new business creation in this country," says Bassill.
Launch America! Reviving the American Dream speaks to two groups: the entrepreneurs who will build the businesses we need to regenerate our nation, and the ordinary and extraordinary individuals who want to support these entrepreneurs. At the core of the book are the essential building blocks and best practice guidelines to create more successful startups and more jobs. Together, with the unique initiative to create more funding for these startups, the American Dream can once again, become a reality. The book and the LaunchAmerica.org website also offer a means for mentors and those interested in helping fund these ventures to contribute and make a real difference. Launch America's networking site, StartupTeamup.com offers a one-stop-shop for entrepreneurs to get the help they need and team up with investors and service providers to prepare compelling business plans and get the funding to launch their new businesses. Launch America! Reviving the American Dream, with its step-by-step guide and unique Initiative to create more funding for more successful startups is available at Amazon.com and Barnes and Noble.
About the author
Nick Bassill is an American inventor, innovative thinker and serial-entrepreneur who has built a number of successful businesses over the past 30 years. He began working with cutting-edge technologies while still in college, and went on to develop several key products that revolutionized their respective industries – including in-room safes for the hospitality industry, the Cruvinet wine preservation and dispensing system to shepherd in the wine revolution, and advanced power electronics for induction cooking systems. Presently he also serves as a business and creative consultant to startup, early-stage and established companies.
Launch America! Reviving the American Dream by Nick Bassill. First edition, 6 x 9, 222 pages, 18 illustrations and tables. ISBN 978-0-9835940-0-0. $24.95, hardbound.
###