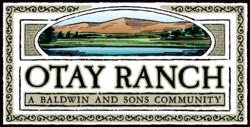 San Diego, CA (PRWEB) December 16, 2011
Summer and fall of 2011 has seen a steady increase in both homebuyer visits and the sale of new homes in the South County. New home sales are up 61% for the months of January through October, 2011, as compared with last year's numbers for the same timeframe. The twelve projects in Otay Ranch have seen an increase in combined sales of over 300% for the same timeframe. With over 28,000 total visits from interested homebuyers through October, the same year over year comparison homebuyer visits in South County is up 53% and the combined visits on Otay Ranch are up over 270% with the new projects that have opened in the last year. These are some impressive increases and may show that consumer confidence is on the rise.
Otay Ranch by Baldwin and Sons is owned by Alfred E. Baldwin and his sons, Ron Baldwin, Steve Baldwin, Shawn Baldwin and son-in-law Randall Bone. Between their three homebuilding entities, they have seven neighborhoods, four of which have opened in the last year. "We feel tremendous optimism with the increase in visits and sales over the last year, and we think it is a good sign for this coming spring," said Steve Baldwin, CEO of Heritage Building & Development and Executive VP of Baldwin and Sons.
###